Main content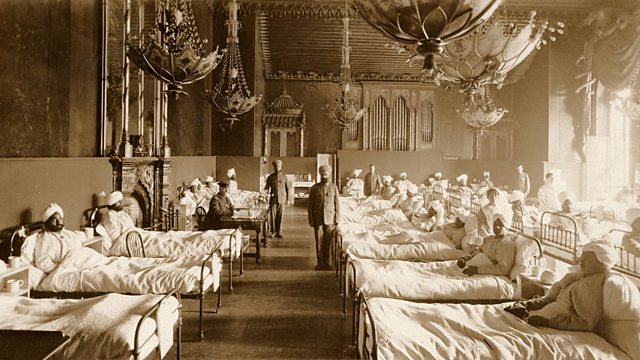 The Royal Pavilion, Brighton: Wartime Indian Hospital
The Royal Pavilion became a media spectacle during WW1
Brighton is one of the most diverse places in the country where dozens of different faiths and nationalities live side by side. And yet the city keeps its English seaside feel too, thanks in part to some amazing pieces of architecture, such as the pier, the grand hotel and the Royal Pavilion. The Pavilion attracts 300,000 visitors a year, all taking in the Regency folly and grandeur of the place.
But 100 years ago the Pavilion was quite a different place. From 1914 to 1918, the prestigious Royal Pavilion estate was used as a military hospital for wounded Indian soldiers. A total of 724 beds were available and by the end of the war, more than 4,000 Indians and Gurkhas had been treated here.
Brighton had three hospitals for Indian soldiers at the time, the others were the York Place schools that were converted into a hospital for the more heavily wounded, and the Elm Grove workhouse, which was renamed the Kitchener Hospital and treated less serious casualties. The Kitchener was the largest and held 2,000 beds, but the Royal Pavilion became the most famous.
The makeshift hospital and its patients were photographed for postcards; over 120,000 of these were sold in Brighton alone. Some of them were published in a remembrance book, written in English, Urdu and Gurmukhi (Indian Punjabi). Copies of the work (20,000) were also distributed in India. Paintings and a short film were also produced.
Little is known about the contribution of Indian troops to the World Wars, namely, they fought with the British and made up the largest volunteer armies: 1.5 million in World War One and 2.5 million in World War Two.
Location: The Royal Pavilion, Brighton, Sussex BN1 1EE
Image shows soldiers recuperating in Ward 5 (the Music Room) inside the Pavilion
Image courtesy of the Royal Pavilion and Museums, Brighton & Hove
Presented by Davinder Dhillon
Duration:
Featured in...
Places in Sussex & Surrey that tell a story of World War One

ANZAC and Commonwealth troops

Hospitals, medical pioneers and the nursing contribution
More clips from World War One At Home