Main content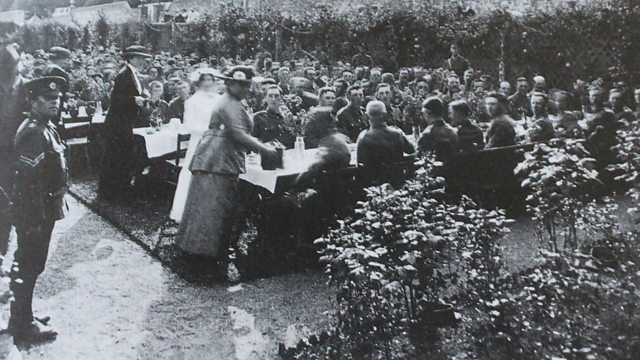 Fowey, Cornwall: The Poet Who Raised a Battalion
Sir Arthur Quiller Couch raised a battalion from scratch with no military experience
During the Great War most army battalions were raised by the War Office but just a few were formed in other ways. The tenth battalion of the Duke of Cornwall Light Infantry was raised by the Mayor and citizens of Truro on 27 March, 1915. At the start there were just two officers – a retired Colonel, Dudley Mills and a Cambridge English literature professor, Sir Arthur Quiller-Couch, who had no military experience.
Quiller Couch, or 'Q' as he was known, was regarded as an eccentric leader but much respected. In the early days, the battalion was gathered in a tented village near Truro. There is an account of how 'Q' insisted on the men shaving every day then carried out daily 'chin inspections'. On one occasion after a 'route march' the soldiers were treated to tea in the garden of the Quiller-Couch's family home at 'The Haven' in Fowey. Lady Quiller-Couch is pictured serving rows of men seated at tables in the fine gardens. On another occasion 'Q' took the men to swim in the sea after which the writer is reported to have clipped their toe nails in what is described as a moment of 'biblical care'.
The tenth battalion is described as unique, all Cornishmen with their leader treating them almost as his children. On 24 October, 1915, the Battalion was taken over by the War Office drafting in a full complement of officers allowing Quiller-Couch to return to his academic studies in Cambridge.
Just months after the war ended Arthur Quiller-Couch's world was to be shattered by the death of his beloved son, Bevil. Having survived the war and been decorated for bravery he was still in Germany in 1919, where he tragically died in the flu epidemic. 'Q' managed to get hold of Bevil's charger, Peggy, bringing the horse back to Fowey to live out its days.
Bearing in mind his ability to gather men and call to arms it may come as no surprise that 'Q' is said to have been the inspiration for Kenneth Graham's 'Wind in the Willows' character Ratty.
Location: Whitehouse Beach, Fowey, Cornwall PL23 1HZ
Image shows Lady Quiller Couch serving tea to the Batallion
Photograph courtesy of DCLI, The Keep, Bodmin
Presented by Hannah Stacey
Duration:
Featured in...
The impact on arts, literature, poetry and journalism

Places in Cornwall that tell a story of World War One
More clips from World War One At Home