Main content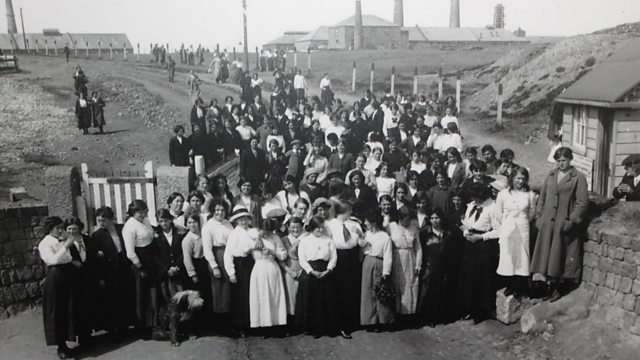 Cligga Head, Cornwall: Nobel's Explosives Factory
Munitionettes packed explosives with the chemist who founded the Nobel Peace Prize
Alfred Nobel, the founder of the Nobel Peace Prize, patented his invention for dynamite in 1867. More than three decades later in 1892 the Nobels bought a cliff top factory from the British & Colonial Explosives Company. It was moth-balled between 1905-1914 but opened again at the start of the Great War.
Annie Holman worked at the Nobel's Explosives factory at Cligga Head packing grenades with explosives alongside her friend Ivy James. Annie and Ivy would walk from Bolingey up the hill to the factory to work 10-12 hour shifts according to Annie's son Trevor Miners. The women wore special clothing and safe shoes to avoid materials that risked creating a spark and igniting the dangerous substances they were handling. The factory buildings were surrounded by earth banks in the hope they would contain a blast in the event of an explosion.
Ivy later married into the famous car makers the 'Healey' family of Perranporth. Her time learning machining skills at another factory in Bedford later on during the war was to prove handy some years later at the original Healey garage in Perranporth.
Not far from the munitions works, the very foe the grenades were intended for may not have been far away. Bic Healey says his mother would recall how they "used to walk on to Cligga Head sometimes and look down over and there would be German U-boats down there re-charging their batteries."
A third Perranporth man has more memories of what went on at Cligga Head and explains a sensitive family link; 95-year-old Kenneth Grieb was the son of an industrial chemist working for Nobel's. Christopher William Maurice Grieb, whose German born parents had come to London in 1880, spoke little about his work but was proud of the time he spent at the Nobel's factory. Kenneth's German grandparents were never to visit Perranporth because they had strong German accents and feared the response of the locals.
"They both had German accents so never went to Perranporth. There was a great anti-German feeling. My grandfather said 'my heart broke in 1914.' (Kenneth Grieb)
Location: Cligga Head, Cornwall TR6 0EB
Image shows munitions workers, or 'canary girls' at Noble's Explosives factory
Photograph courtesy of Perranzabuloe Museum
Presented by Hannah Stacey
Duration:
Featured in...
Places in Cornwall that tell a story of World War One

The production boom that fuelled the frontline
More clips from World War One At Home