Main content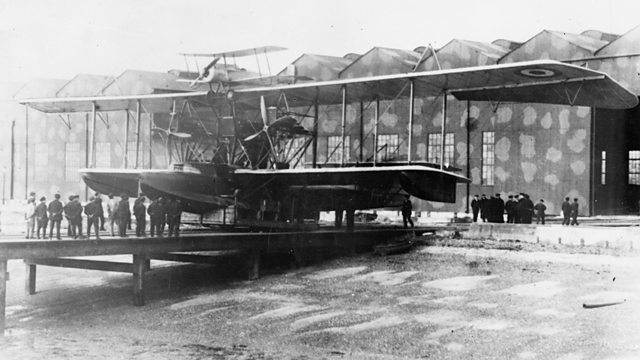 Felixstowe, Suffolk: Pioneering Sea Plane Base
The hub of British innovation in seaplanes
When the Royal Flying Corps was formed in 1912, a search was launched for a base near Harwich harbour. In June, one of the four original naval officers found the site for Felixstowe Air Station, later known as "Seaplanes – Felixstowe".
In October 1913, Winston Churchill, then the First Lord of the Admiralty, visited. He took a flight in a Borel, one of the first seaplanes to be based there, but it crashed into the water, leaving a rather shaken up Churchill, needing a change of clothes and a warm meal at the Melrose Hotel, which had been adopted as headquarters by the base commander.
From its early days, Felixstowe was the place for the development and testing of seaplanes; among those developed there, the Porte Felixstowe and the Felixstowe Fury.
During the summer of 1914, the Royal Naval Air Service became responsible for the air defence of the British Isles and the pressure was on to increase the range of the aircraft on patrol. In April and May 1914, tests were carried out by the Royal Navy and the RNAS, which involved launching seaplanes from the tops of submarines out at sea.
In 1924, the air station took on a new role, as the Marine Aircraft Experimental Establishment. It also became the base for a team of RAF pilots who formed the High Speed Flight. They trained on the Suffolk coast to take part in the Schneider Trophy in 1927. The race was designed to encourage technical advances in civil aviation, but became a test of pure speed. The British team won in 1927, 1929 and 1931, thus retaining the trophy.
Here, George Edward Brice, who was based at Felixstowe, remembers the pioneering naval aviator Charles Rumney Samson, testing a seaplane during World War One.
Location: Former Seaplanes Felixstowe base, Felixstowe, Suffolk IP11 3RX
Photograph courtesy of Imperial War Museums
Duration:
Featured in...
Where war was the mother of invention

Places in Suffolk that tell a story of World War One
More clips from World War One At Home