Main content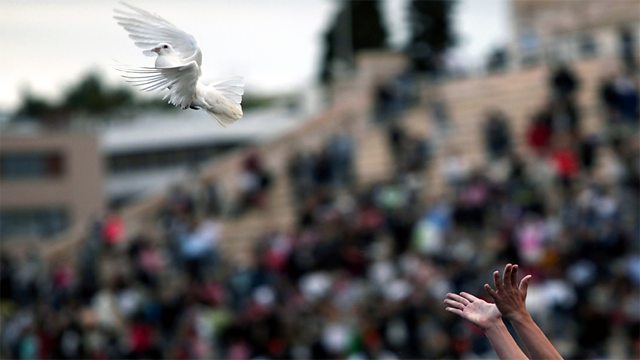 Revolutionary Freedom
When dictatorships are overthrown, how should societies rebuild themselves? With Elham Saudi, Suzanne Desan and John Ralston Saul.
Why freeing countries from old habits of thought can actually prove more difficult than the usual revolutionary fare of storming prisons and attacking estates of the privileged. As Libya is about to start drawing up its new constitution, severing its legal ties with the Gaddafi era, lawyer Elham Saudi guides us through the dilemma of what to keep and what to reject from the 42 years of the colonel's rule. Historian Suzanne Desan offers a longer perspective on the same problem: the French Revolution swept away old legal systems, legalising divorce or giving women equal inheritance rights for instance, radically altering the fabric of French society. But the current president of PEN International, writer John Ralston Saul argues that removing unpalatable remnants of the past robs us of valuable insights, dooming us to repeat mistakes of the past.
Picture: A dove in flight, Credit: Getty Images
Chapters
Elham Saudi

What to keep and what to reject from the 42 years of Gaddafi's rule in Libya

Duration: 12:47

Suzanne Desan

The French Revolution and legal stances on divorce and inheritance rights for women

Duration: 10:13

60 second idea: Using grandma's birthday as a key to history

Compare your own life with the lives of your ancestors

Duration: 05:13

John Ralston Saul

How removing unpalatable remnants of the past robs us of valuable insights

Duration: 11:17

Elham Saudi

In her role as director of Lawyers for Justice in Libya, Elham Saudi has worked on fact finding missions connected with investigations into alleged human rights violations in Libya and advised a number of Libyan, European and international bodies in relation to the 2011 conflict in her native country. She has recently accompanied a team of Libyan lawyers and social activists to over 35 locations across Libya in order to engage members of the public in discussions about the upcoming constitutional drafting process.  

Suzanne Desan

Suzanne Desan is Vilas-Shinners Professor of History at University of Wisconsin-Madison, with particular interest in early modern France and the French Revolution.  Her research covers popular politics and political activism, especially gender; family; the Enlightenment; the transnational circulation of ideas, people, and practices, popular culture and religion. She is the author of several books including The Family on Trial in Revolutionary France and The French Revolution in Global Perspective, co-edited with Lynn Hunt and William Nelson. 

Photo: © Board of Regents of the University of Wisconsin System.UW-Madison, University Communications/ Aaron Mayes

John Ralston Saul

John Ralston Saul is an award-winning essayist and novelist, perhaps best known for his philosophical trilogy - Voltaire's Bastards: The Dictatorship of Reason in the West, The Doubter's Companion: A Dictionary of Aggressive Common Sense and The Unconscious Civilization.  He is also the general editor of a series of 18 biographies that reinterprets important Canadian figures for a contemporary audience by pairing well-known Canadian writers with significant historical, political and artistic figures from 1850 onwards. A long-time champion of freedom of expression, Saul was elected President of PEN International in October 2009.  

60 Second Idea to Change the World

Suzanne Desan says that everyone should write down a birthday of one of their grandparents - and their own - and then try to find out what happened on those two dates. That could be what political conflicts and wars were going on, what were people worrying about at the time, what were their pastimes, what did they eat? The point is to try and use history to compare your own life with the lives of your ancestors. You can start with the minutiae of life and gradually build up a bigger picture and bigger questions – are you more free than your grandparents? Do you have more control over your life than them?

In next week's programme:

We'll be looking up at distant stars, and looking down at earth from space, attempting to identify what reality is made of.  With cosmologist Max Tegmark, artist Mishka Henner and archaeologist Sarah Parcak.