Main content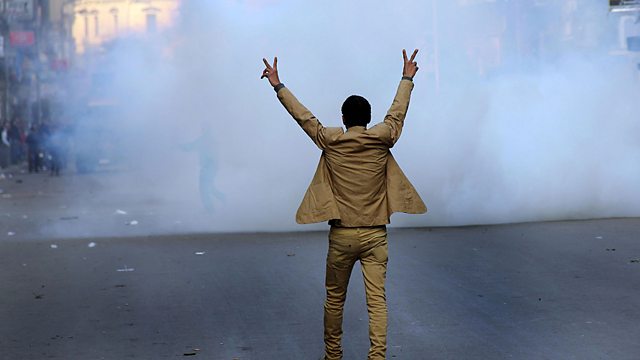 Peace Talks Around the World
Is reporting peace harder than reporting war? And the freedom songs that came to define the generation growing up after Argentina's military dictatorship.
Is reporting peace harder than reporting war? BBC Persian's Mehrdad Farahmand, who is currently in Geneva reporting the Syrian peace talks, and BBC Africa's Caroline Karobia, who spent three years covering talks between North and South Sudan, share their stories of what goes on behind the scenes - and why some reporters get into punch-ups while reporting peace.
Also on the programme:
Cairo: Reporting Under a Climate of Fear
Ashraf Khalil has been reporting from Cairo since 1997 but never before has he felt so afraid to work there. He describes a climate that feels something like a witch hunt for journalists, activists and NGO workers - anyone who's not entirely in step with the accepted national narrative. The pressure to conform to an agreed script comes not just from Egyptian government circles but also from the wider population who, he argues, have spent too many months in fear.
Kite Flying in Delhi
It's kite flying season across South Asia, and from India BBC Hindi's Nitin Srivastava reminisces about the afternoons he spent as a child flying kites on the rooftops of Delhi with his brother. He goes down to the Red Fort - one of the old town's flying hot spots - to relive his youth and join dozens of children as they compete with their material birds.
Love Thy Neighbour: The Azeris and the Turks
Now as you know there are 27 languages here on the 5th floor. Two of them - Azeri and Turkish - are actually very close. They sort of share an alphabet, same vocabulary, the cadence and rhythm sounds in their two languages are very similar but there are some key differences which can lead to awkward moments. Editors Famil Ismailov - from Azerbaijan - and Murat Nisancioglu - from Turkey - talk through the friendly rivalry between the two countries and the mishaps of mistranslations.
Freedom Songs: Argentina
As part of the BBC's Freedom season, Natalio Cosoy of BBC Mundo hears from the 30-something generation that grew up in the shadow of violence of military rule in Argentina. He follows the story of two boys who were kidnapped from their left wing parents and handed over to military families and talks about survival and the freedom songs that came to define their generation.
Online Greatest Hits
Fifi Haroon gives the low down on the top-hitting stories across the Language Service websites, including a sleepwalking statue and incorrect Gujarati textbooks.
The Fifth Floor is presented by David Amanor.
Picture: Man in Cairo makes a peace sign
Picture credit: Getty Images.