Main content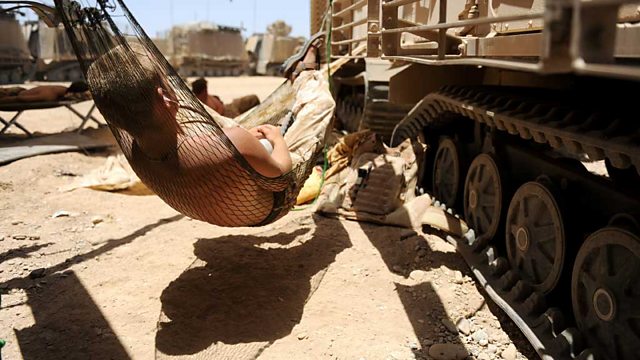 My War, My Playlist
What role does music play for today's soldiers?
In October 2001 Steve Jobs took to the podium to launch his latest innovation – the ipod. Thousands of miles away the war in Afghanistan was just beginning. In this programme we will hear how the MP3 player can now be found in nearly every soldier's kit bag. What role does music play in the lives of soldiers today?
As British soldiers prepare for their first war zone posting, building a playlist takes on a real sense of importance for those both excited and anxious about their first tour of duty. What will be the right music to listen to when they are in Helmand?
Soldiers stationed at Camp Bastion describe their music as an essential part of their lives. It helps to drown out the constant hum of activity around camp. It gives an adrenalin kick to long, dreary journeys, and helps everybody to relax in their free time. Music can rapidly become a prop, helping those serving to deal with the difficult and potentially-traumatic reality of life serving in Afghanistan.
What happens when those troops arrive home? Years after seeing active duty in a warzone, what place do those playlists have in their lives? Do they offer comfort, or rake up difficult and dangerous memories?
My War, My Playlist weaves the music soundtracks of Helmand with soldiers' stories of operations. On the face of it, the playlist seems irrelevant, just a selection of favourite songs lying at the bottom of a kit bag. This programme shows that within these track choices, lies an almost endless list of associations, memories and emotions.
Picture: A soldier from 1st Battalion Welsh Guards rests in a hammock in Afghanistan, Credit: Ministry of Defence