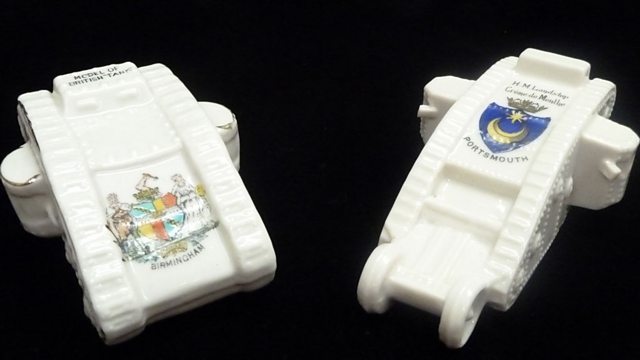 Keele Street Pottery, Stoke: Propaganda Through Pottery
Before World War One, the pottery industry in North Staffordshire was starting to face strong competition from overseas producers, including Germany. With the outbreak of war, these imports of pottery and porcelain stopped immediately, benefiting many firms in the potteries industry.
However, it also led to a national shortage. One item that German firms had been exporting to Britain were egg cups but once these goods had been sold in shops or removed from the shelves - for being unpatriotic - there was a shortage.
Entrepreneur Elijah Brookes saw an opportunity and set up a small firm on Keele Street in Tunstall to produce egg cups. Within a few years, the Keele Street pottery was making a huge range of goods and expanding - all thanks to egg cups!
But it wasn't just egg cups being produced in the area. As well as tableware, to be sold to hospitals, homes and the military, companies in Stoke-on-Trent produced propaganda-ware, including small ceramic tanks - or "land-ships" - and battleships; they made plates with patriotic designs or messages on them; and ceramics to mark both the early stages of the war and the Armistice at the end.
The war also saw women taking on bigger roles in the pottery industry; with the men volunteering or being called-up, they came to the fore as decorators and designers, taking key roles from men and being recognised after the war as leading lights.
Location: Keele Street Pottery, Tunstall, Stoke-on-Trent ST6 5AR
Image of two pottery tanks
Photograph courtesy of the Potteries Museum & Art Gallery
Featured in...
Places around Stoke that tell a story of World War One

The production boom that fuelled the frontline