Main content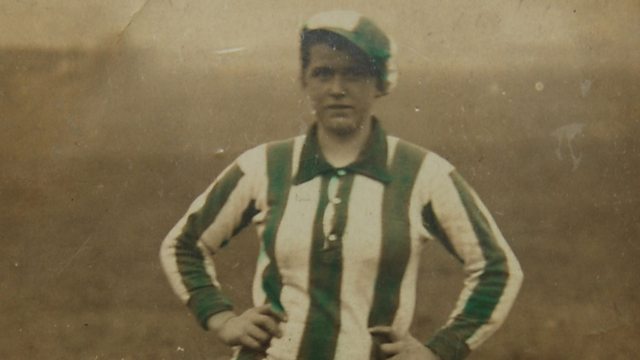 Croft Park, Newcastle: Blyth Spartans Ladies FC
A women's football team that was unbeaten during WW1
Thousands of women munition workers played football during World War One but one team in the North-East stood head and shoulders above the others.
Blyth Spartans Ladies FC had been taught to play by navy lads on the beach and in two years they were never beaten. Their centre forward Bella Reay scored 133 goals in one season and went on to play for England.
In 1918, a knock-out competition called the Munitionettes Cup was held which attracted 30 teams. Blyth Spartans were the eventual winners, beating Bolckow-Vaughan of Middlesbrough at Ayresome Park in front of a crowd of 22,000, Bella Reay getting another hat-trick.
The women were highly skilled and competitive but when the war ended the factories closed and their teams folded. A few of the women continued to play, but in 1921 the FA banned women's football at their grounds bringing to an end a colourful chapter in women's sport, which has long been overlooked.
Location: Croft Park, Blyth, Newcastle NE24 3EJ
Image of Bella Reay from the Blyth Spartans Ladies FC
Photograph courtesy of Yvonne Crawford; granddaughter of Bella Reay
Duration:
Featured in...
People who changed the world around them

Places around Newcastle that tell a story of World War One

The devastating impact on sporting life and the rise of women's football
More clips from World War One At Home