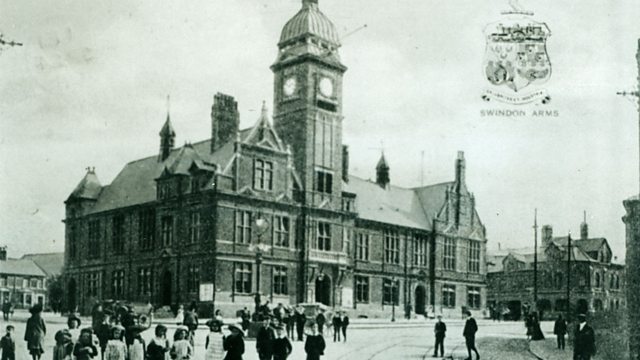 Regent Circus, Wiltshire: Peace Day Riots
Peace Day 1919 was Britain's chance to really celebrate the end of World War One. Whilst the Armistice, on 11 November 1918, is still commemorated annually, it was merely a ceasefire, to allow the business of negotiating peace with a defeated Germany.
Signatures on a peace treaty took until 28 June 1919 to materialise. Britain then focussed its celebratory attentions on a 'Peace Day', on the 19 July 1919.
Swindon, in Wiltshire, joined the nation in preparing celebrations but became one of a handful of towns to mark the occasion with three nights of rioting, looting and burning the Union Flag. So what caused it?
According to Mark Sutton, a historian from Swindon, it's nothing more than a flag pole.
Mark has spent years researching the town's WW1 heritage. He says that the town council had organised various entertainments for the town, over the weekend of 19 July 1919.
"But it was the town council's idea of mounting a flagpole outside the Town Hall which caused the riots" said Mark.
The flagpole had cost £250 of publicly collected money and Mark says that the choice of what to spend it on angered ex-soldiers.
"They'd come back from four years of fighting, in some cases, and they've come back to a land supposedly fit for heroes. But what they found was that they struggled financially, and so did their families, as a soldier's pay wasn't too good. Some were injured, some had lost jobs and they felt they'd come back to nothing. They didn't take kindly to the idea of the council paying such a sum, just for a flagpole."
Mark's research has uncovered a unique eyewitness account of the troubles: 24-year-old William Blake had heard rumours of trouble at the celebrations and later recorded what he saw.
His account speaks of thousands filling Regent Circus, ex and serving soldiers among them.
"The men were seething, anything could happen now. There were cries and shouts of 'cut the rope!' It was no sooner said than done, and down came the Union Jack. This was the spark to really set things off. Someone in the crowd shouted, "Burn it down!"
The fuel to do this was supplied by individuals who apparently stole petrol from a nearby car dealer and added it to timber placed around the bottom of the flagpole.
As the pole burned in the late summer evening light, the crowd sang and chanted. The local fire brigade kept their distance having been told that if they interfered, their hoses would be cut. Given the numbers involved, on duty policemen seemed to have adopted a softly-softly approach.
William Blake's account continues: "As if with one voice, the crowd roared, and 'It's going!' and like magic, the crowd scrambled to get out of the way of the falling pole. The crowd were now very excited and noisy."
The noisy crowd then carried the pole, its embers still glowing, from Regent Circus, down Regent Street and Bridge Street to the junction with Fleet Street. There, they dropped it in the middle of the tram terminus.
Two more nights of trouble followed, including looting of shops, police baton charges and the police station being surrounded when rioters believed some of their numbers were being held inside.
Jeremy Blake is William's grandson. He says the account of the riots is 'mind-blowing'.
"The first I'd ever heard of any of this, was in my grandfather's account. I'd been given it by my father. It was an absolute total surprise. It's amazing to think that you could get thousands of people into Regent Circus and even more amazing to think of riots going on."
Location: Regent Circus SN1 1PZ
Image of Swindon in the early 1900s courtesy of the Wiltshire and Swindon History Centre
Presented by Mark Sutton
Featured in...
Protest

—

World War One At Home

Race riots, rent strikes and conscientious objectors' resistance

Places in Wiltshire that tell a story of World War One