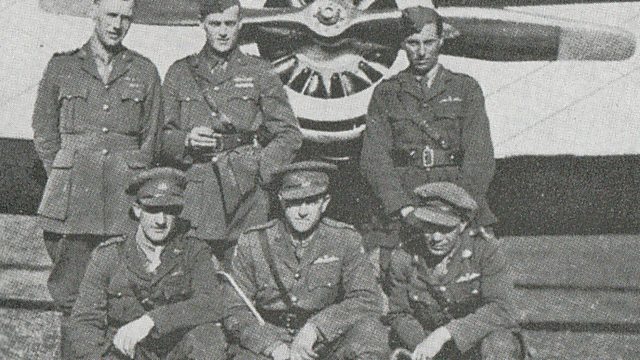 Leighterton Cemetery, Gloucestershire: Australian Squadrons Train for the Western Front
When Great Britain entered World War One in 1914, she possessed a mere 150 aircraft and less than 2,000 trained men. By the end of the war, Royal Air Force consisted of 22,000 military aeroplanes and 300,000 men. At least half of these personnel came from the overseas dominions of the British Empire. Australians in particular were considered excellent pilots and resulted in a joint British/Australian decision to train Australian Squadrons in England for service in France and Egypt.
So efficient were these squadrons that by the end of 1917 it was decided to build an Australian Flying Corps training wing consisting of four new squadrons. Squadrons 5,6,7 and 8 were to supply replacement pilots to the four squadrons on active service. The average life expectancy of a pilot at the front was then less than three weeks.
A large area of land near the estate of the Duke of Beaufort at Leighterton was chosen as the site for one of the aerodromes. It was cleared by Canadian Foresters in the autumn of 1917. The timber was used for the temporary canvas and wood hangers until the permanent brick hangars could be built.
From the moment they arrived, the Australians were determined to integrate into the community. Sporting and social activities of all kinds were encouraged. In this atmosphere, friendships flourished and relationships of a more romantic kind developed.
Local resident Lionel Padin, who was 10-years-old in 1918, remembers them fondly: "They were a very jolly and happy crowd, very friendly indeed, up to all sorts of nonsense; very fond of a glass of beer, very fond of chatting up the local girls in the village, which sometimes of course made problems."
High spirits that sometimes got out of hand led to the occasional appearance before local magistrates. Most cases were for minor infringements, such as riding bicycles without lamps. Some were more serious. Stroud Magistrates recommended three men were sent "back to the front, forth with" for stealing a pair of boots from Taylors Shoe Shop in Stroud.
Many early cadet pilots lost their lives while learning the new skills required by the latest aeroplanes. The single seater fighter, the Sopwith Camel, was the most efficient warplane at the time. It had been brought into full production in the middle of 1917 and took great skill to fly properly. Although the aircraft was not involved in all the accidents at Leighterton it was high on the list of crashed machines. It had a rotary engine which meant a large part of the engine mass spun round with the propeller making directional control difficult.
Roy Pillow is one of a number of Australians buried in the cemetery at Leighterton after losing his life in the skies above Gloucestershire while training for active service on the Western Front. He was born in Geelong in the state of Victoria and by the age of 20 had enlisted in Melbourne leaving his homeland in May 1916.
He was initially attached to a special operating hospital at the Australian Casualty Clearing station at Authie, on the Somme front from October 1916. He started officer training with the Australian Flying Corps in February 1918 and was posted to Leighterton in June of that year with 7th Training Squadron, as a cadet.
Considered a keen and competent pilot Roy would lose his life in a flying accident in an RE8 in August 1918. He stalled the plane during a turn at low altitude, it spun into the ground and he fractured his skull. The plane was a complete write-off.
The Court of Enquiry found him blameless. He had 23 hours of solo flying experience.
Location: Leighterton Cemetery - St Andrews GL8 8UY
The six sole survivors of no. 2 Squadron AFC who came to Minchinhampton and Leighterton as instructors. Left to right: Capt. L. Holden MC, AFC, Maj. R.C. Phillips MC, DFC, AFC, Capt. W.A. Robertson, Lt. H. Clark, Oswald Watt, Lt. R.L. Clark. Image courtesy of Alan Vaughan
Presented by Sybil Ruscoe
Featured in...
Places in Gloucestershire that tell a story of World War One

ANZAC and Commonwealth troops