Main content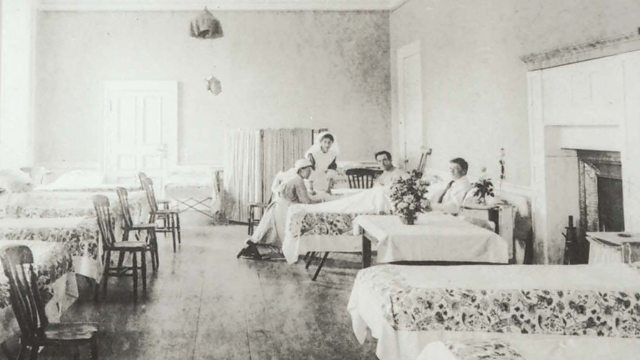 Dunham Massey, Cheshire: Sanctuary From the Trenches
Dunham Massey was a sanctuary for WW1 soldiers injured in conflict
Dunham Massey is a beautiful early 18th Century house surrounded by a deer park. It's been cared for by the National Trust since its last owner died in 1976 and is a popular destination for visitors. But less well known is its role in the Great War.
During the conflict the Grey family offered the house to the Red Cross to be used as the Stamford Military hospital. All told 282 soldiers were treated between April 1917 and January 1919 - not a single one died at Dunham.
In 1917 the elegant saloon was turned into a ward with 25 beds for ill and injured 'other ranks' soldiers - the Stamford Military Hospital was for Tommies, not officers.
The Grey family of Dunham Massey who owned the house also helped in the hospital. Lady Jane became a voluntary aid detachment nurse aged 17, and even helped in an operation in a makeshift theatre at the bottom of the grand staircase.
The National Trust is sharing stories of this philanthropic work during World War One by reviving the house to Stamford Military Hospital once again. It's open to the public from 1 March 2014, with archived information of the Stamford family.
Location: Dunham Massey, Cheshire WA14 4SJ
Image: Dunham Masey Saloon in 1917, courtesy of the National Trust
Duration:
Featured in...
Places around Manchester that tell a story of World War One

Hospitals, medical pioneers and the nursing contribution
More clips from World War One At Home