Main content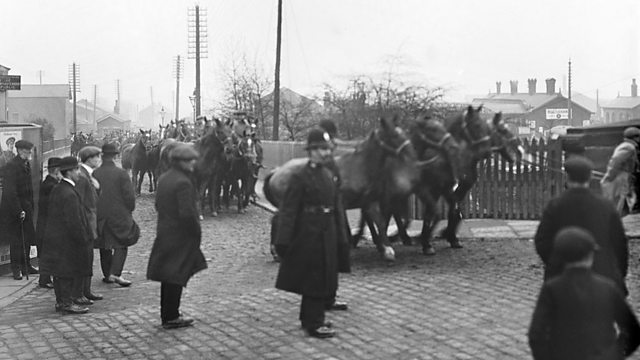 Lathom Park, Lancashire: Real War Horses
Thousands of horses were trained at Lathom Park for front line action during WW1
During the war, thousands of horses – and men - were trained at Lathom Park near Ormskirk. Lord Lathom offered his land so the animals could be prepared for their duties at the front line.
These were not animals as you may have seen in the film "War Horse." The vast majority were not used for the cavalry but for heavy work such as pulling gun carriages or supplies.
Horses came to West Lancashire from all over the world. But the story of Lathom Park wasn't just about the animals. Thousands of men passed through the park to learn different equine skills. A number of them, the likes of blacksmiths and farriers, went there as civilians.
In 1915, when the park was militarised many of those civilians effectively became soldiers overnight. One of those men was John Westhead, the village blacksmith in nearby Newburgh. He was 44-years-old when he was killed by a shell in France in October 1916, leaving a widow and young family.
The park remained in use for horse training throughout the war. It's thought up to 300,000 animals could have passed through it in that time
Location: Lathom Park, Lancashire L39 9EJ
Image shows horses leaving the goods yard at Ormskirk, December 1914
Photograph courtesy of the National Railway Museum
Duration:
Featured in...
The horses that went to war

Places in Lancashire that tell a story of World War One

Animals' contribution to the war effort
More clips from World War One At Home