Main content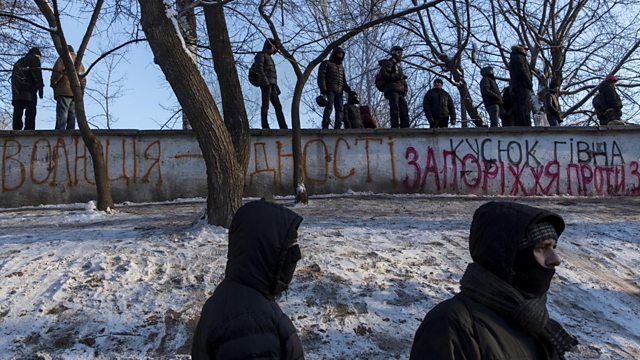 Kiev: the Story of Hrushevsky Street
The hidden musical instruments of Iran, Kiev's iconic Hrushevsky Street, Sochi travel guide, living along Uzbekistan's borders, and a tribute to BBC Africa's Komla Dumor
Anti-government protesters in Kiev have been inching closer and closer to Hrushevsky Street. The road is home to Ukrainian government buildings as well as the football stadium where local team Dynamo Kiev play, but this week it was overrun by bullets, molotov cocktails and burning tyres, the stadium was damaged and the ticket office burned down. The Ukrainian Service's Andriy Kravets tells the story of this iconic street and its significance.
Also on the programme:
The Hidden Musical Instruments of Iran
An Iranian TV channel caused a sensation this week by showing a musical instrument on television for the first time in 30 years. The practice has been banned in the country because some Shia clerics say that broadcasting music is at odds with Islam, so Iran adopted a curious policy of broadcasting concerts but not showing the instruments - often replacing them with vases of flowers. Golnoosh Golshani and Faranak Amidi of the Persian Service discuss how to perform music on Iranian TV.
Travel Guide to Sochi
Sochi - the Black Sea holiday resort also known as the "Russian Riveria" - is the rather unexpected, sub-tropical venue for next month's Winter Olympic Games. BBC Russian's Anastasia Uspenskaya gives her top Sochi city travel tips - though it may be difficult to avoid the "twin toilets".
Online Greatest Hits
Fifi Haroon gives the low down on the top-hitting stories across the Language Service websites, including a Belarussian parrot running in local elections and a Chinese computer game targeting corrupt government officials.
Borderlife: Uzbekistan
What is it like to live along Uzbekistan's borders? Our Central Asian journalists take us on a journey around the landlocked country, with Moheb Mudessir on the Afghan-Uzbek border, Sirojuddin Tolibov on the Tajik-Uzbek separation, Rose Kudabaeva from the Kazakh-Uzbek divide, and Ibrat Safo along the Turkmen-Uzbek crossing.
Komla Dumor Tribute
This week the BBC lost a great man: journalist Komla Dumor was a friend to all who knew him in the BBC. This is our tribute to him in his own words.
The Fifth Floor is presented by David Amanor.
Image: Anti-government protesters stand on a hill near Dynamo Stadium. Credit: Getty