Homeless in Hungary
In Hungary homeless people are having to contend not only with a cold winter but also a new law which makes sleeping rough illegal in many areas. The government argues that the law, which threatens those living on the streets with a fine or even prison, means fewer people will suffer the effects of the cold. Campaigners say there are not enough places in the shelters and that as many as one in five homeless people would prefer to stay as they are - and not have to part with their pets and belongings. Nick Thorpe is in Budapest to investigate the plight of the homeless in Hungary and asks is it possible to legislate away a social problem?
(Image: Albert and Valeria in their new home. BBC Copyright)
Last on
Thu 23 Jan 2014
20:06

GMT
Catering for the Homeless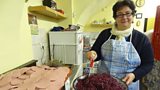 Anna Maria runs the Maltese Charity soup kitchen on Szena Square in Budapest. It opens at 8.30 each morning and caters for 300 to 400 homeless or very poor people each day. More than 80 per cent are men, with an average age between 40 and 50. The bread is made in a bakery run by the charity, and those who come early sometimes get meat and cabbage as well. Some homeless people are taken on as volunteers, alongside others on a government work programme, and students on work-experience.
House in Monor: Homeless at Home
Around 30,000 people are estimated to be homeless in Hungary, out of a population of 10 million. But many of those with a roof over their heads are not much better off. 1.6 million live in deep poverty. This house is in a Roma settlement on the edge of Monor, a small town 40 minutes drive east of Budapest. The Maltese Charity Service is providing building materials to help the family of 7 who live here, turn this into a real home.