Main content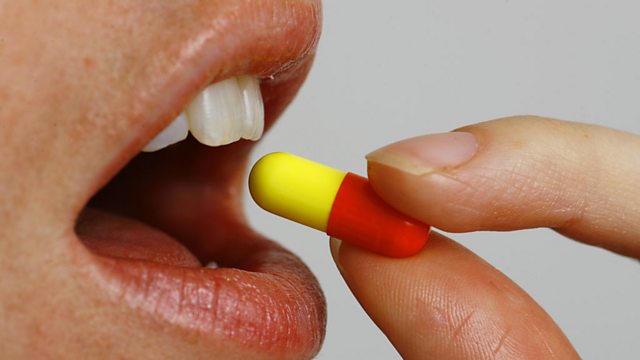 Harnessing the Placebo Effect
How words can double the effectiveness of medication; GDR patients allegedly subjected to drug trials without their consent; Baby navel hernias; Are bald men more virile?
It is well known in medicine that with painkillers, for example, although they contain active ingredients which do reduce pain, part of their effectiveness is down to our belief that they work. A previous episode of Health Check covered the discovery that a sugar pill could make a difference to pain, even when patients were told it was just a placebo. Now the same team from Harvard Medical School has taken it a step further, and found that the way a pill is labelled can make a big difference to relieving the pain of a migraine. Professor of medicine Ted Kaptchuk is a lead author of the study, which has just been published in Science Transitional Medicine.
Communist Drug Trials
After claims that East Germany was selling its citizens as guinea pigs to the West, one of Europe's leading hospitals, the Charité, has begun an investigation into drug testing practises they carried out under the former communist regime. Archive research has shown that Western pharmaceutical companies paid millions to the GDR to carry out tests on tens of thousands of their patients, some of whom are coming forward and saying they never consented to these trials. Abby D'Arcy, the BBC's Berlin reporter, has been investigating for Health Check.
Baby Hernias
After hearing last week's item on hernia operations, listener Marika emailed the programme because it reminded her of when her baby son had an umbilical hernia. At the time, in 1970, her doctor advised her to tie a knot in her baby's nappy to put pressure on the hernia. Health Check was intrigued, so sought the expert advice of director of Operation Hernia Professor Andrew Kingsnorth.
Health Myth
Is it true that men who go bald early are more virile? Dr John Gray, trichology consultant, provides the answer.
(Picture: Woman putting a pill capsule in her mouth. Credit: Press Association Archive/Chris Ison)
Last on

Chapters
Harnessing the placebo effect

How words alone can double the effectiveness of medication

Duration: 09:06

Illegal drug testing trials

GDR patients allegedly subjected to medical trials without their consent

Duration: 08:52

Navel hernias in babies

How should they be treated?

Duration: 04:28

Health myth

Are bald men more virile?

Duration: 01:40

Broadcasts