Main content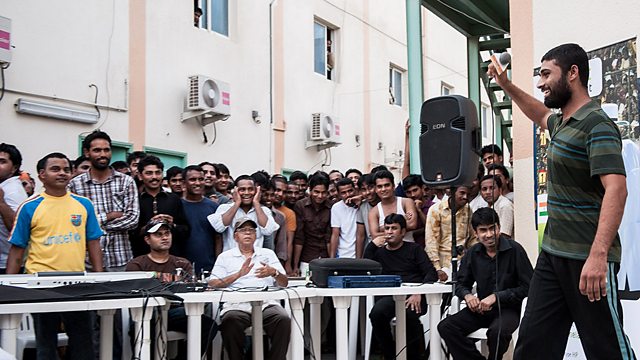 The Singing Labourers of Dubai
Film-maker Mahmoud Kaabour on capturing the lives of migrant workers whose only solace is singing in a talent contest in the camps they live in.
Champ of the Camp is a film which follows migrant labourers in Dubai who have entered a mostly Bollywood-themed talent contest. Lebanese film-maker Mahmoud Kaabour explains why he wanted to document these lives.
Workaholic doctor Matthew Varghese works round the clock in India's last dedicated polio ward. Reporter Natacha Butler accompanies him on his rounds to hear from the patients who inspire him to keep going.
Grammy-nominated American Jazz singer and songwriter Gregory Porter on music in church, imagining his father was Nat King Cole, and the career in American Football he chose not to pursue.
And, the Lithuanian medical student with Asperger's Syndrome, who has overcome many obstacles to be on the verge of qualifying as a doctor specialising in genetics.
(Picture: An entrant to the Camp ka Champ talent competition sings in front of an appreciative crowd in a Dubai labour camp. Credit: Siddharth Siva courtesy Veritas Films)