Main content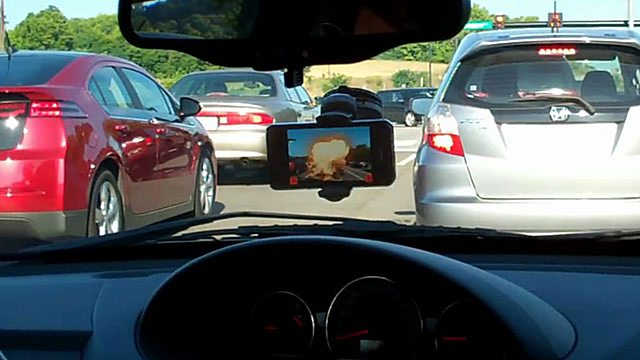 Webscape: How to blow up a traffic jam with your smartphone
Kate Russell's weekly review of some of the best websites and apps.
Kate Russell's weekly review of some of the best websites and apps. Web links are at the bottom of the page.
If you're driving home for Christmas this year augmented sound specialists RJDJ can make the journey more fun with Vroom, an iPhone app that gives your engine a whole new soundscape. The app uses accelerometer and GPS data to realistically respond to acceleration, braking and cornering forces as you drive instantly turning your family hatchback into a V8 muscle car, canon toting tank, or with the right upgrade packages go back to basics with just one horse power.
If, however, the thought of a family Christmas is enough to give you road rage, blowuptraffic is a voice activated iPhone app that lets you vent your frustration by blowing up traffic in front of you.
If all that talk of driving has given you the travel bug but you have no fuel in your tank, check out geoguessr that combines Google Streetview and Maps to quiz you through a tour of the world right from your computer screen.
For a bit more style try the health and beauty online magazine GettheGloss. It was founded on the principle that you can be interested in fashion and style and still want to read intelligent, thoughtful writing.
If in all the excitement of Christmas you forgot to send a few cards, try portable North Pole's website that lets you send a personalised message directly from Santa.
If you want to follow the big man's progress to see when he might be stopping by your chimney there are a couple of ways you can track him.
Norad's Santa tracker is fast becoming a Christmas classic, with lots of content to explore before and after the main event on Christmas Eve as well. Sponsored by the North American Aerospace Defence Command the site has a military feel, which has actually caused controversy this year with some child advocates complaining about the depiction of a military escort for St Nick.
If you prefer a cuter option Google also has a Santa Tracker. The action kicks off on Christmas Eve when you'll be able to travel with Santa courtesy of Google maps, learning a little about some of his stops along the way.
Duration:
More clips from 21/12/2013 GMT

More clips from Click