Main content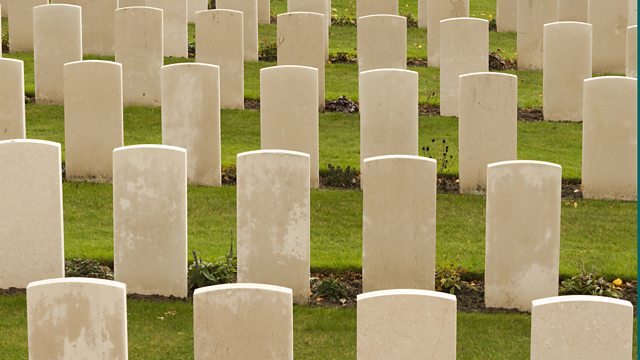 World War 1 Performance Pack - Sound Resources
Sound resources to enhance your staging of the play 'Archie Dobson's War'
The programme offers sound resources to enhance your staging of the play 'Archie Dobson's War'. Included are the backing tracks of the songs (for pupils to sing along to), extended music sequences (for movement activities) and a variety of sound effects indicated in the playscript. Each of the sound resources is referenced in the playscript so that their use can be anticipated and accurately cued. Each individual sound resource can be downloaded as an mp3 file from this page (see 'Related Links' below).
Complete guidance notes for the WW1 Performance Pack music, dance and drama programmes
Staging 'Archie Dobson's War'
'Archie Dobson's War' is a play commemorating World War 1 that has been specially written for children aged 9 - 11 for performance in school.
The play combines singing, dance and a wide range of small spoken parts for both boys and girls. A performance will typically last between 45 and 90 minutes, depending on intervals and whether all the songs are included.
The audio resources provided by the BBC - including backing tracks for the songs and specially created sound 'FX' - are a key element of the play. The cues for these are clearly marked in the playscript in red ('Audio Resource 1' etc). 
The links to these audio resources can be found in the 'Related Links' section on the Archie Dobson's War homepage and also on programme 10, called Sound Resources (see right).
To play an audio file all you need to do is click on the link and the audio will open and play in your default media player. When the audio is finished you will need to reload the audio links page, for example by clicking on the 'back' button of your browser. In this way it is possible to include the music and SFX in your performance simply by having an internet-enabled computer connected to your sound system.
If you would prefer to use the audio resources offline it is simple to download them for use from your computer, or from an mp3 player - such as an iPod. To do this from a PC: right click the audio link and select 'Save Target As…' 
To download from a Mac: right click the audio link and select 'Download linked file'.
If these methods of playback are not available to you please get in touch using the Contact us link and we will do what we can to help.