Main content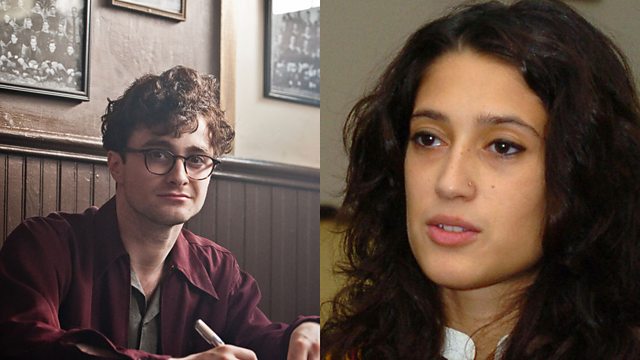 Daniel Radcliffe
" I wanted to know that I was being wanted for the right reasons" - Daniel Radcliffe
On The Arts Hour we're looking at art borne of a need to try new pathways.
Actor Daniel Radcliffe talks about the gay sex scene in his new film Kill Your Darlings which he hopes will push him far away from Harry Potter. Fatima Bhutto, niece of assassinated former Pakistani Prime Minister Benazir Bhutto, discusses her debut novel, The Shadow of the Crescent Moon, and after so much violence in her country, argues the case for compassionate nonviolence. Also the South African opera singer Njabulo Madlala tells us about his long journey growing up under apartheid to singing at London's Royal Opera House.
In the second half: in the shadow of 9/11, Marvel Comics' tries a new superhero: Muslim shapeshifting Girl Kamala Khan - her writer G Willow Wilson, explores her thoughts as she creates this new role model. We've got Eritrean-born musician Fetsum whose fabulous new music was borne of his family fleeing the country's long civil war. And we've got the renowned Nigerian author Chimamanda Adichie and Kenyan writer Yvonne Owuor discussing the state of African writing. We visit an exhibition from controversial British artists The Chapman Brothers who claim to be poking the liberal order in their new work featuring tiny Nazi figures committing atrocities, stuffed animals having sex and lifesized mannequins dressed as Ku Klux Klansmen.
Photo of Daniel Craig, Fatima Bhutto (c) Rizwan Tabassum/AFP/Getty
Music and featured items
Chapters

Daniel Radcliffe

The actor talks about playing the beat poet Allen Ginsberg in Kill Your Darlings.

Duration: 08:54

Fatima Bhutto

The author talks about her debut novel set in Pakistan's Tribal Area

Duration: 06:10

Muslim Super Power

G Willow Wilson talks about her comic creation Kamala Khan

Duration: 04:57

Njabulo Madlala

The South African opera singer is in the UK performing How the Whale Became

Duration: 07:54

The Chapman Brothers

The artists talk about their controversial new exhibition

Duration: 07:09

African Literature

Michael Kaloki talks to Nigerian author Chimamanda Adichie and Kenyan writer Yvonne Owuor

Duration: 09:56

Fetsum

The Eritrean singer discusses his first album, The Colors of Hope

Duration: 04:26

This is the music we played in this week's programme