Main content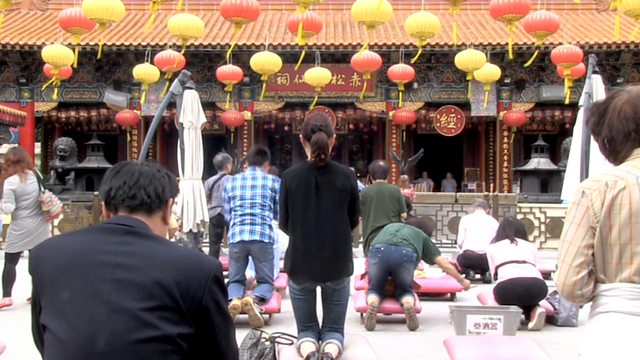 Making it Big in Hong Kong: A Matter of Good Fortune?
Could Hong Kong reinvent itself as Asia's new creative hub? Discussion at the iconic Hong Kong Fringe Club with Phillip Kim, Ivy Ho, Danielle Huthart and Liz Ho.
Has the Asian concept of 'Fortune' been the key to Hong Kong's economic success but also a limitation on its creativity? In a special programme recorded at the Hong Kong Literary Festival, Bridget Kendall asks if this dynamic yet conservative city, could in future, measure up creatively to its neighbour China and other countries in the region. Perspectives from banker-turned-novelist Phillip Kim, neo-Victorian specialist Liz Ho, screenwriter Ivy Ho and designer Danielle Huthart.
(Photo: Chinese people kneeling and praying for good fortune at a temple in Hong Kong. Credit: Britt Yip)
Last on

Phillip Y. Kim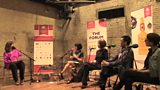 Phillip Kim is an American-Korean writer and financier who has worked for over 25 years in the finance industry, including for Lehman Brothers and Morgan Stanley. He has spent most of his career in Asia and lives in Hong Kong. He is the author of Nothing Gained, his first novel, and the blog Tales of Asia's One Percent. 
Elizabeth Ho Hung Lam
Liz Ho is associate professor of English at Lingnan University where she teaches global literatures in English. Her recent monograph, Neo-Victorianism and the Memory of Empire, focuses on the politics of memory in contemporary texts that 'remember' the 19th Century. She also writes about postcolonial fiction, feminist literature and graphic novels.
Danielle Huthart
Born in Hong Kong to English-Chinese parents, Danielle Huthart has pursued art all her life. After a decade in New York, she returned to Hong Kong and founded Whitespace in 2005, a creative brand consultancy. She also heads the team behind Creative City – Hong Kong's first creative insider guide – and has curated many exhibitions featuring local and international artists.
Ivy Ho Sai-Hong
Ivy Ho's first film screenplay, Comrades: Almost a Love Story won her Best Screenplay at the Hong Kong Film Awards in 1997. Five years later, July Rhapsody won a Golden Horse Award for best original screenplay and another Hong Kong Film Award. She made her directorial debut with Claustrophobia. Crossing Hennessy is her second work. Like Ho's other stories, it involves love affairs and everyday life in Hong Kong.
Incense sticks at a temple in Hong Kong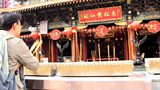 Photo by Britt Yip
Next Week
Co-operation seen through the eyes of young Gandhi, a distinguished poet and a scholar of religion. With Ramachandra Guha, Elaine Feinstein and Ara Norenzayan.
Broadcasts