Main content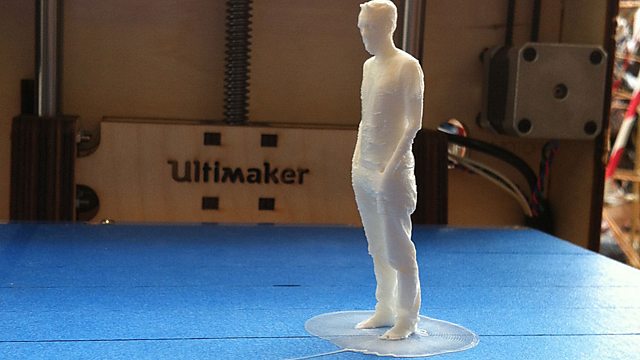 3D Printing
3D printing looks set to revolutionise manufacturing but is it democratising at the expense of expertise? Does 3D printing really facilitate high quality bespoke productions?
Imagine holding a mini version of yourself. In the near future, you could visit a 3D print equivalent of a photo booth and emerge not with a passport photo but with a plastic, chess piece-sized sculpture of yourself.
Click brings that possibility to the BBC Radio Theatre where a 3D scanner is assembled and volunteers are 3D printed in the course of the show. Gareth Mitchell and Bill Thompson are joined by a panel of experts to explore how 3D printing has evolved from gimmicky reproductions of jewellery to life-sized, 3D 'printed' houses on the canals of Amsterdam.
The panel includes: Bre Pettis, the CEO of Makerbot; the architect Hedwig Heinsman; Jonathan Meyer from EADS; the poet, Elvis McGonagall and the technical team from 3Dify.
(Photo credit: Mini self 3D image of Gareth Mitchell © Gareth Mitchell)
Last on
Broadcasts