Main content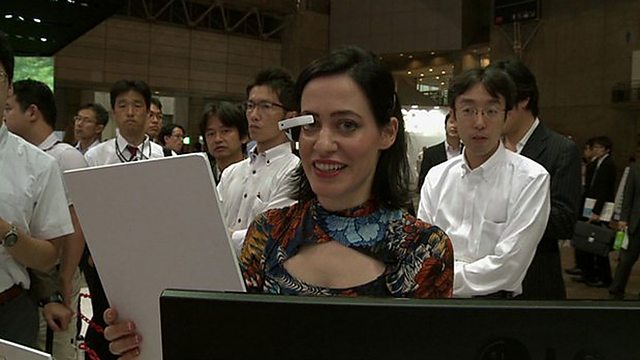 CEATEC Electronics Tokyo
Highlights from CEATEC in Tokyo; the banking software scanning your emotional response to money; the innovative hearing aid that cuts out background noise to improve hearing
The CEATEC electronics show in Tokyo is one of the key events of the technology calendar. Among the highlights this year was a tool that might help travellers who struggle with the foreign language of their destination. Click's LJ Rich tries on a set of Intelligent Glasses that could translate a restaurant menu in a foreign language before your very eyes.
EmotionScan
Would you let someone take control of your webcam to see how you felt about money? The Bank of New Zealand is using the latest facial imaging software to try and get their customers to face up to their finances. Rather than making an appointment to see the bank manager, today banks want access to your web cam, via a website to discover how you feel about your finances. The aim is to sell more financial services. It is the first time facial imaging software has been used to gauge how people feel about their finances - so far nearly 5,000 have had a go. Simon Morton spoke to Tim Llewellyn from nViso - a Swiss-based company that specialise in mapping emotional responses from consumers using 3D facial mapping software - it's called EmotionScan.
Noise Reduction in Hearing Aids
There are millions of users of hearing aids around the world. But one big problem with hearing aids is that they do not work so well when the person is in a place with a noisy background. A team of researchers in the UK are exploring ways to cut out the background noise that will enable hearing aids to be more efficient in public places. Richard Turner joins Click to discuss the latest developments.
(Photo credit: LJ Rich puts some translation glasses to the test reading a Japanese menu © BBC Mehrnaz Farahmand)
Last on
Chapters
CEATEC: Translation Glasses

LJ Rich tries on a pair of intelligent glasses that translate foreign language.

Duration: 04:37

EmotionScan

Simon Morton reports on the use of emotion recognition tools by banks.

Duration: 05:23

Noise Reduction in Hearing Aids

A report on cutting out background noise to improve hearing aids.

Duration: 04:07

Broadcasts