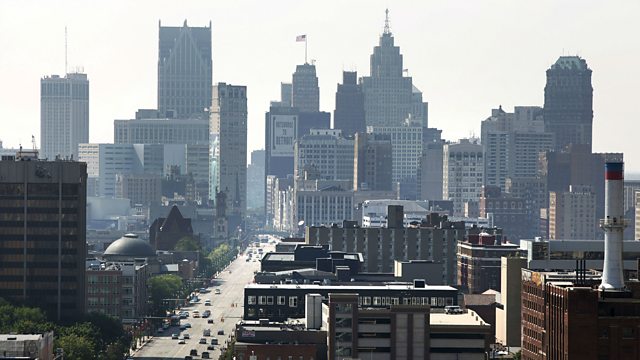 Detroit - Bust But Building
Despite being bankrupt Detroit plans to build a new sports arena for its ice hockey team, the Red Wings, including the use of some taxpayers' money. The city has already helped fund newly-built NFL and MLB stadia, but should a bust city $18billion in debt be helping such a project? To debate the issues are Professor Mark Rosentraub, from the University of Michigan and part of the development team, Dr Lynn Bachelor of the University of Toledo and Kevin Boyle from North Western University
Bosnia-Herzegovina
Despite wild celebrations, is the prospect of national unity through football simply a romantic notion? We look at the ethnic make-up of football in Bosnia, including clubs who have only Bosnian Serb or Croat players. Davide Sterchele a Leverhulme Trust visiting fellow at Leeds Metropolitan University and author of Peace-building and Ethnic Tensions in Post-war Bosnian Football explains all.
Pooh Prowess
Australia has been in the sporting doldrums for a while. So could one man from Melbourne bring some sporting pride back to a nation? We follow Alex Marshall as he attempts to become World Champion… at the annual Pooh Sticks World Championships.
Fabulous Baton Boys
As the Queen's Commonwealth Games baton passed through the last host city Delhi on its journey towards the next, Glasgow, we look at the legacy of hosting the event to the people of India.
An Englishman, Scotsman and Anglo-Scot walk into Brazil
Brazil might be the best footballing nation on the planet, but is it down to an Englishman, or a Scot, or an Anglo-Scot… We investigate how football bloomed in Brazil
Star Chasing
Our "From Our Own Sport Correspondent" shows the lengths any good journalist goes to get their story, including learning Japanese. Ollie Williams we salute you… 良い仕事
Ironwoman
We challenge the idea that a 4km swim followed by a 180km bike ride topped off with a full marathon is anything other than a doddle.
Last on
Sat 19 Oct 2013
10:06

GMT