Main content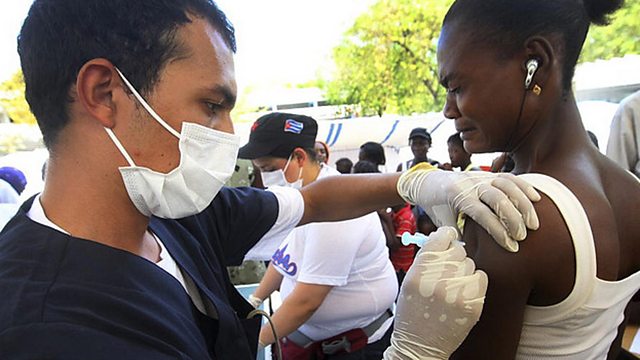 Haitian Health Care
The barriers to effective health care in Haiti, the ticking health bomb of Ukraine's low vaccination rates, and why some obese people are just as healthy as slimmer people.
Three years on from Haiti's devastating earthquake, there is still much to be done according to medical researchers. A study carried out by doctors at the Henry Ford Hospital says better co-ordinated health care is needed to overcome the cultural and physical barriers to effective treatments for Haitians. Reliance on traditional healers who can wrongly diagnose illnesses and fragmented chaotic work of aid groups means people are going without effective treatment or in some cases being given the same vaccine repeatedly by different health workers. Samia Arshad, lead author of the study, tells us what they hope to achieve with the findings.
Healthy and Obese
A new study has examined how some obese people are just as healthy as their slim counterparts. The study in Finland examined 16 pairs of twins with a significant weight difference. They found that for some obese people their metabolic health, including factors like blood pressure, was just as good as for someone who was notably thinner. The findings have just been published in Diabetologia, the journal of the European Association for the Study of Diabetes. Dr Jussi Naukkarinen, is the lead author and tells us why the results have important implications.
Vaccinations in Ukraine
Ukraine has the lowest vaccination rate in Europe and there are concerns it could lead to a proliferation of fatal illnesses that are transmitted abroad. Last year it had the highest outbreak of measles in Europe with over 12,000 cases. There are mixed reasons for people's failure to vaccinate including concerns over the health effects of the vaccinations and easy access to them. The BBC's David Stern hears from one reluctant mother and speaks to the WHO's head in Ukraine.
(Picture: A woman grimaces as a doctor administers a vaccination provided by the World Health Organization at Delmas 33 camp, Port-au-Prince. Credit: UN Photo/Sophia Paris)
Last on

Chapters
Haitian Health Care

The cultural and physical barriers to health care in Haiti

Duration: 12:53

Healthy obesity

Examining why obesity doesn't always mean ill health

Duration: 04:07

Vaccinations in Ukraine

Why some believe Ukraine's low vaccination rates are a ticking health bomb

Duration: 08:32

Broadcasts