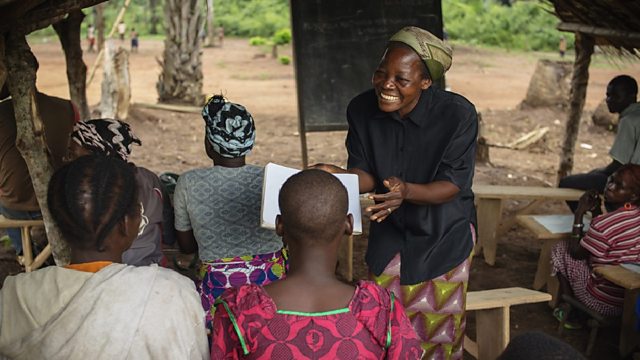 Saving Victims of the LRA
The nun devoted to helping women and girls traumatised by the Lords Resistance Army. Also, the woman who sends sharks to sleep, and Anoushka Shankar on her album Traces of You.
As a school girl in the Democratic Republic of Congo, Angelique Namaika decided to become a nun. She was forced out of her home by the violence of the Lord's Resistance Army. Now she devotes her life to helping women and girls who were also traumatised by the rebel group. Her work has brought international recognition. Last year, she was invited to address the US Congress; last month the United Nations High Commissioner for Refugees gave her a prestigious award; and last week she met the Pope.
Also today, we meet Anoushka Shankar - the daughter of Ravi Shankar, a well-known Indian sitar player and composer.
Matthew Bannister speaks to Jonny Benjamin, who was diagnosed with schizophrenia and depression when he was in his early twenties. Devastated by the diagnosis he tried to commit suicide. But the intervention of a passing stranger saved his life and changed his attitude. He has now become a champion for young people with mental health problems.
And finaly we sent our reporter Shuka Kalantari to find the American man who goes by the name of 'Mule'.
(Image: Sister Angelique teaching in the Congo. Copyright: UNHCR / B. Sokol)
Featured in...
Half the world speaks: the lives of women around the world

Listen to documentaries, interviews and news items on Africa from the BBC archives