Main content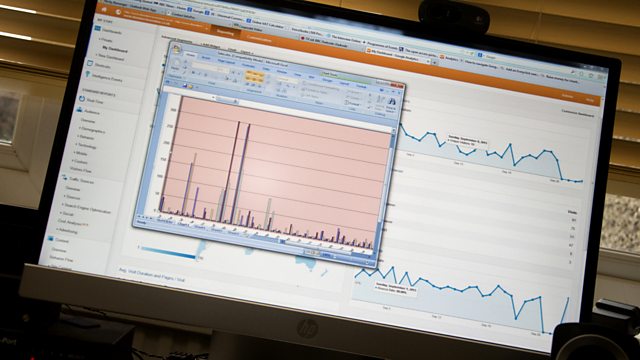 Measuring Impact
Measuring is embedded into everything we do from our personal achievements to profits and losses. But has it become an obsession and are we measuring the right values?
Measuring is embedded into everything we do from our personal achievements to profits and losses. But has it become an obsession? Or are we measuring the wrong things? How can you measure trust for example? To discuss the results, Carrie Gracie talks to Mike McCreless who invests in rural businesses in developing countries, academic economist Rocco Macchiavello, who has been looking at trust in the work place and clinical psychologist Oliver James.
(Picture: Computer screen showing a graph. Credit: Nicky Barranger)
Chapters
Mike McCreless

Duration: 11:23

Oliver James

Duration: 11:37

60 Second Idea: CEOs to spend a year looking after a child under three years old

Duration: 03:55

Rocco Macchiavello

Duration: 13:35

Dr Rocco Macchiavello

Rocco Macchiavello is associate professor at Warwick University in the UK who has done extensive field work in Bangladesh, Kenya and Rwanda. Rocco's research interests mainly focus on the microeconomics of development. His recent projects analyse the process by which exporters from developing countries acquire valuable reputations in foreign markets, the upgrading of production process linked with international trade and agricultural value chains. 

Mike McCreless

Mike McCreless leads Root Capital's impact assessment programme – a not-for-profit organisation which secures loans for communities helping farmers in Africa and Latin America. Previously, he worked at the International Finance Corporation and Acumen Fund. He has also consulted for Monitor Company and conducted research for Harvard Business School professor Michael Porter. Mike holds an MBA and an MPA from Harvard University and a BA from Yale University.

Oliver James

Oliver James trained and practised as a clinical psychologist and has worked as a writer, journalist, and broadcaster in the UK. He has also been a television documentary producer and presenter. He has published eight books, including Affluenza and The Selfish Capitalist.

60 Second Idea to Change the World

Oliver James would like to see all CEOs of corporations with over 50 employees, politicians and captains of industry spend a minimum of one year looking after an under-three year old child. In order to make them more rounded people, they would need to demonstrate their experience in dealing with a tantrum of a two year old, changing a nappy or feeding an angry child.  According to James, many of these individuals are out of touch with reality and become workaholics to compensate for the lack of attention they may have received as babies themselves.  Would the world be a better place if our leaders were more in touch with their infants' needs?

Next Week

Whistle blowers and rumourmongers: how do we distinguish between the two? With Ana Maria Machado, Jayson Harsin and Rahul Sagar.