Main content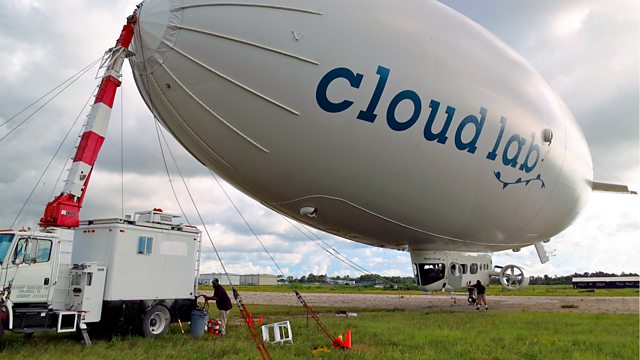 Two-part documentary following a team of scientists as they explore the earth's atmosphere, travelling in an airship. The expedition begins with an examination of clouds.
Flying coast to coast across the United States aboard one of the world's largest airships, a team of scientists undertake a series of exciting experiments shedding light on the causes of wild weather, how life exploits the atmosphere, and the human impact upon the weather.
The team begins their voyage with an exploration ofclouds. Expedition leader and meteorologist Felicity Aston examines how clouds capture liquid water and tries to weigh a cloud in an ambitious experiment.
Andy Torbet, former paratrooper, sets out to measure the forces that keeps clouds afloat by parachuting through the turbulent and hazardous air that surrounds a large cumulus cloud.
Microbiologist Dr Chris Van Tulleken examines one of the most radical theories in meteorology today - that some clouds are actually alive, and as a consequence are more likely to form rain than others.
Finally, the team examine why there has been an increase in hurricanes along the Gulf Coast in recent years. Their investigation leads to some surprising results.
Clips

Credits
| Role | Contributor |
| --- | --- |
| Executive Producer | Jonathan Renouf |
| Producer | Jeff Wilkinson |
| Narrator | Steven Mackintosh |
| Presenter | Felicity Aston |
| Presenter | Sarah Beynon |
| Presenter | Jim McQuaid |
| Presenter | Chris van Tulleken |
| Presenter | Andy Torbett |