Main content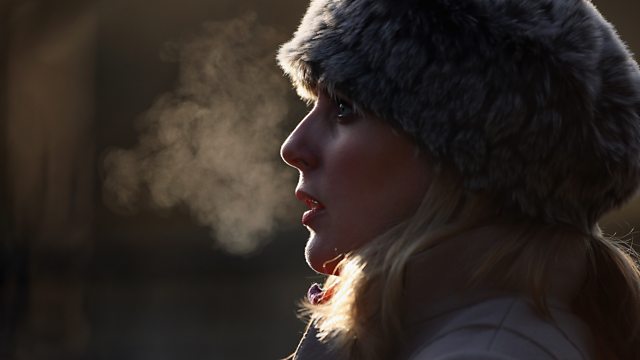 The Air You Breathe
How the biochemical properties of our breath could be as unique to individuals as a finger print. Plus, tenor John Potter on the relationship between breath control and singing.
Swiss chemist Renato Zenobi has been analysing the chemicals in the air we exhale. His findings suggest that the metabolites in our breath could help early medical diagnosis or catch sports cheats right on the starting line. Tenor John Potter explains the intimate relationship between the singing voice and the breath. And, writer William Bryant Logan reminds us that the air we breathe is not a thing or a place but the continual product of the breathing of all living things.
(Photo:A woman breathes out on a cold day. Credit: Dan Kitwood/ Getty Images)
Chapters
Renato Zenobi: Your unique breath-print.

Duration: 11:55

John Potter: Breath-control for a beautiful sound.

Duration: 11:05

60 second idea: Make all music live again!

Duration: 04:39

William Bryant Logan: You are what you breathe.

Duration: 12:51

Renato Zenobi

Renato Zenobi is Professor of Analytical Chemistry at the Organic Chemistry Laboratory of the Swiss Federal Institute of Technology (ETH) Zurich. He was also one of the founders and directors of the centre of excellence in analytical chemistry (CEAC, 1995 - 2007) at the ETH Zurich.   Zenobi's research areas include laser-based analytical chemistry, electrospray and laser-assisted mass spectrometry, laser-surface interactions, and near-field optical microscopy and spectroscopy. He has made important contributions to the understanding of the ion formation mechanism in matrix-assisted laser desorption/ionization (MALDI) mass spectrometry and to the development of analytical tools for the nanoscale.   

John Potter

A writer and scholar as well as a singer, John Potter has published four books on singing and is a former British Library Edison Fellow. He is Reader Emeritus in Music at the University of York, having left the university in 2010 to focus on his portfolio of freelance projects. John's eclectic performing experience has ranged from first performances of works by Berio, Stockhausen, James Dillon, Arvo Part and Michael Finnissy to backing vocals for Manfred Mann, Mike Oldfield and The Who (among others). He was a major contributor to the Hilliard Ensemble's Officium project (for which he has five gold discs), and subsequently developed many of the ideas in The Dowland Project's four albums for ECM.

William Bryant Logan

William Bryant Logan is a certified arborist and president of Urban Arborists, Inc., a Brooklyn-based tree company. Logan has won numerous Quill and Trowel Awards from the Garden Writers of America and won a 2012 Senior Scholar Award from the New York State chapter of the International Society of Arborists. He also won an NEH grant to translate Calderon de la Barca. He is on faculty at NYBG and is the author of Oak and Dirt, the latter of which was made into an award-winning documentary. The same filmmakers are currently planning a documentary made from Air.   Photo by Sam Logan 

60 second idea

John Potter suggests that we should disable all forms of electronic music reproduction and storage and impound all scores of western art music. This would force a return to music as a living thing that has to be actively created, not simply passively absorbed and taken for granted. Shops and restaurants would be free of background music, people would have to talk at parties, and the experience of music would be live, sociable and special. Obliging musicians to recreate the Western canon from memory would be a wonderful challenge and put it on an equal footing with other, equally valuable, oral musics from all over the planet.

Next week...

Why are we increasingly obsessed with measuring the impact of everything we do? Can you really put a number on trust and relationships? With investor Mike McCreless, economist Rocco Macchiavello and psychologist Oliver James.