Main content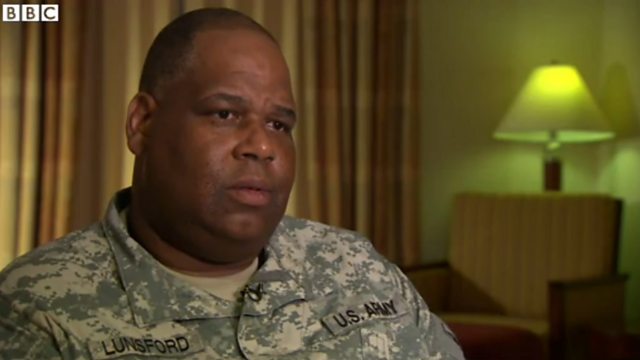 Shot Seven Times in Fort Hood Massacre
US Army sergeant Alonzo Lunsford survived the 2009 Fort Hood massacre, in which 13 soldiers were killed and 32 others were wounded.
On 5 November 2009, a US Army psychiatrist called Nidal Hasan went on a shooting spree at the Fort Hood military base in Texas. On that day, 13 soldiers were killed and 32 others were wounded. Sergeant Lunsford was shot seven times - but he survived. As a result of the attack, he is now blind in his left eye, and still suffers from post-traumatic stress disorder.
Civil war may be disrupting life for millions in Syria - but one man is determined to carry on as usual. Jamal al-Sassa runs one of the oldest cinemas in the capital Damascus. It is called the Fardos, which means 'paradise' in Arabic. Even though other cinemas have closed down, Jamal is determined to keep the Fardos open for his dwindling - but loyal - audience.
Protests broke out in Istanbul last May, because one of the city's few green spaces - Gezi Park - was set to be redeveloped. The demonstrations turned into nationwide protests against the government and over three months later, they are still going on. A defining moment of those protests was when one man stood alone, still and silent in the centre of Taksim Square for eight hours. He was the actor and dancer Erdem Gunduz and he came to be known as 'The Standing Man'. Listen to our interview with him.
The British band The Clash were one of the most iconic punk rock bands of their era. But when they broke up 30 years ago, it was for all the usual reasons: tensions within the band and egotism. The Clash can not re-form as they were, because their charismatic lead singer Joe Strummer died at the age of 50 in 2002. The BBC's John Wilson recently managed to reunite the three surviving members, now older and wiser.
(Picture: US Army sergeant Alonzo Lunsford)