Main content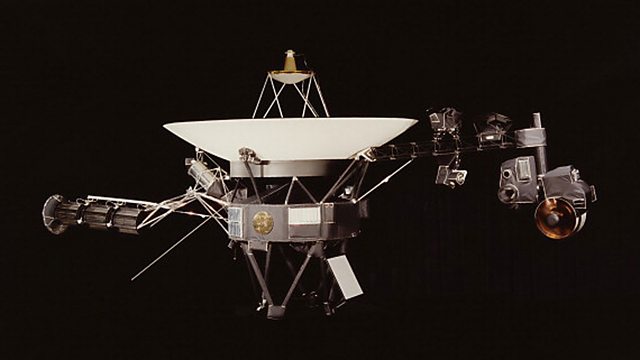 Of the Spheres
The artistic tribute to Nasa's Voyager-1 that uses audio and images. Plus, the One Laptop per Child project 10 years on, and how quantum networks might offer greater security.
Nasa's Voyager-1 spacecraft has become the first human-made object to venture into interstellar space. The probe, which includes a special disc with recordings from Earth and was launched in 1977, is about 19 billion kilometres from our sun. The news has excited many people around the world, including the Chroma Collective, a group of media artists. Their project, Of the Spheres, was inspired by the epic story behind the Voyager-1 probe. It remixes the contents of the disc with audio representations of the signals the Voyager-1 has been receiving. Colin Grant talks to Kate Genevieve and Paul Hayes about their ambitions for Of the Spheres project.
OLPC Tablet
The One Laptop Per Child project was established a decade ago to promote the ideal of every child on Earth having access to a laptop PC. The non-profit organisation has now branched out with the development of a cheap tablet PC designed for children. It includes free-preloaded apps that encourage the nurturing of children's ambitions for the future. The organisation has collaborated with a major company to sell the laptops for about $150 but have they strayed from the original ideals to champion cheap and affordable computers for the world's poorest children? Click talks to Giulia D'Amico from the organisation.
Quantum Networks
Researchers for Toshiba have been working on the development of quantum networks, fibre-optic communication systems where the information is carried by individual particles of light. In the future, such networks may allow computer users to test the secrecy of the information disseminated via the internet. Andrew Shields from Toshiba joins Gareth Mitchell to discuss why researchers believe that information encoded in this quantum state cannot be broken.
(Photo credit: A Nasa image of one of the Voyager space probes, Voyager-1 © NASA/Hulton Archive/Getty Images)
Last on

Chapters
Of the Spheres

Colin Grant reports on an eerie and beautiful tribute to NASA's Voyager 1 probe.

Duration: 04:45

OLPC tablet

News of the cheap tablet PC designed for children. Is it cheap enough?

Duration: 03:58

Quantum Networks

How quantum networks might offer greater security for the internet.

Duration: 04:14

Heliosphere – an audio visual artwork

Used with the kind permissin of Chroma Collective

Broadcasts