Main content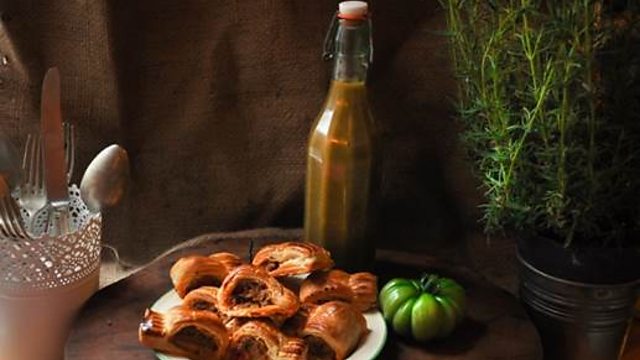 Food Friday - Chorizo Sausage Rolls
Ben Jackson's Food Friday interview with Hazel Paterson
Chorizo Sausage rolls (makes about 20)
350g sausage meat
70g chorizo cubed into small pieces
1 teaspoon smoked paprika
1 teaspoon fennel powder (or 1/2 teaspoon fennel seeds)
1/2 teaspoon dried garlic granules (or 1/2 clove fresh minced garlic)
1/2 teaspoon dried chilli flakes
pinch dried thyme
salt and pepper
300g sheet ready rolled puff pastry
1 egg, beaten to glaze
1: Preheat your oven to 200C. Squeeze the sausage meat out of the skins and discard the skins. Combine with the herbs and salt and pepper in a bowl with your hands.
2: Flour you work surface and lay out your pastry sheet. Cut in half lengthways so you have 2 long strips of pastry. Down the centre of each lay a roll of sausage meat about the width of your thumb. Fold the pastry over to cover and use a fork thats been dipped in flour to seal the edges together by pressing lightly.
3: Slice into bite sized pieces and arrange on a baking tray covered in baking paper, brush each sausage roll with the beaten egg and roast for about 20 minutes or until golden brown.
Duration:
More clips from Ben Jackson