Main content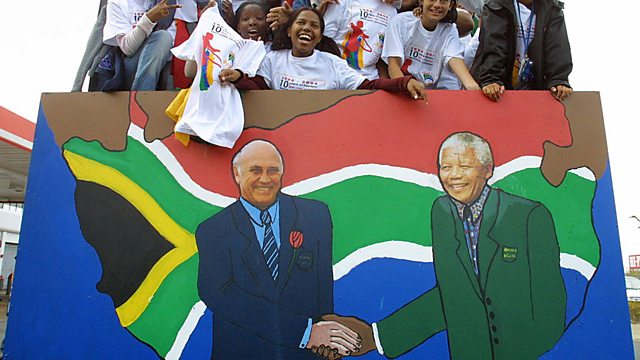 Historic Handshakes, Hugs and Kisses
Africa and the International Criminal Court; Historic handshakes; Why Egypt isn't Pakistan; Letter from Detroit; and Burka Avenger.
Africa and the ICC
As the spotlight lands on the ICC and Kenya, BBC Africa's Kasim Kayira and BBC Monitoring's Juliet Njeri discuss why the International Criminal Court's "most wanted" list features so many Africans.
Historic Handshakes
Twenty years ago Yitzhak Rabin and Yasser Arafat shook hands on the White House lawn in Washington - it was meant to symbolise the beginning of the Israel-Palestinian peace process. We take the Fifth Floor microphone to BBC Arabic's Issam Ikirmawi, BBC Africa's Audrey Brown, BBC Chinese's Yuwen Wu and BBC Persian's Rana Rahimpour to find out about other historic handshakes, hugs and kisses.
Egypt isn't Pakistan!
Saba Imtiaz in Karachi has been sitting quietly, politely listening to all the comparisons that have been made over recent weeks between Egypt and her home country Pakistan - but she can't hold her tongue any longer.
Letter from Detroit
Detroit, the motor city, gave rise to the music label Motown. Now one of its suburbs is home to the largest concentration of Arab Americans in the US. Journalist Rana Abbas tells us how her family and her heart is rooted in the city that has been plagued by financial troubles.
Burka Avenger
The Burka Avenger came to the TV screens of Pakistan a month ago. She's a mild-mannered teacher with secret martial arts skills and uses a flowing black burka to hide her identity as she fights local thugs seeking to shut down the girls' school where she works. Saba Eitizaz from BBC Urdu has been following her secret missions and her story.
Online Greatest Hits
BBC Brasil's Thomas Pappon gives the lowdown on the big-hitting stories across the World Service language sites this week, including Kazakh mermaids and Ukrainian vodka vending machines.
Image Painting of Nelson Mandela and FW de Klerk shaking hands
Credit: Getty Images