Main content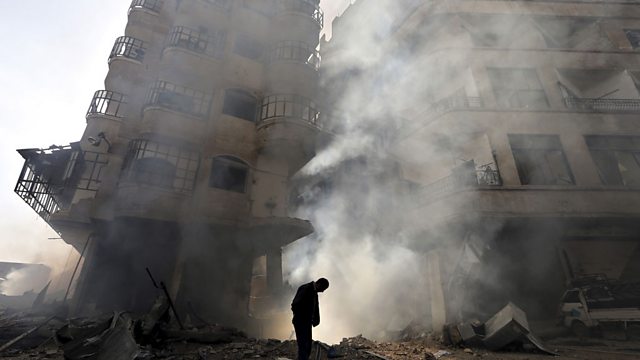 Syria: the Power of Images
Reporting graphic footage from Damascus; Kenya polyandry; Memorable speeches from Pakistan, Kenya, Serbia and China; Buenos Aires barrios on film; and Darfur's forgotten war.
Syria: the Power of Images
Filmmaker Darius Bazargan and BBC Monitoring's Faisal Irshaid are two World Service journalists who, on a daily basis, trawl through horrific images and graphic footage coming out of Syria - pictures that were often too upsetting to broadcast. How do they decide what makes it to air - and how do they deal with what they've seen?
Polyandry in Kenya
Forty-five wives or two husbands? In Nairobi, BBC Africa's Frenny Jowi reflects on the unusual case of a woman who chose to have more than one spouse.
Memorable Speeches
This week marked 50 years since Martin Luther King addressed crowds in the US with the words "I have a dream" - now one of the world's most memorable as well as heavily copyrighted speeches. From Serbia to Pakistan and Ghana, language service journalists recall other orators and monologues that have captured the public imagination. With Dejan Radojevic, Yuwen Wu, Komla Dumor and Aamer Ahmed Khan.
Spotlight on Buenos Aires
BBC Mundo's Ignacio de los Reyes reports on the extraordinary career of Cesar Gonzalez - a young Argentinian filmmaker who went from prison to movie-making. His latest work attempts to challenge negative stereotypes of kids growing up in the slums or "mean" barrios of Buenos Aires.
Darfur - the Forgotten War
This year 20,000 refugees from Darfur have fled to neighbouring Chad - BBC Afrique's Laeila Adjovi remembers a forgotten war.
Online Greatest Hits
Our Portuguese producer Marco Silva has the lowdown of the big-hitting stories across the World Service language sites this week - including naked Putin, and mass Sri Lankan dog weddings.
Picture: Syrian man stands in front of bombed building, Damascus, Credit: Reuters