Main content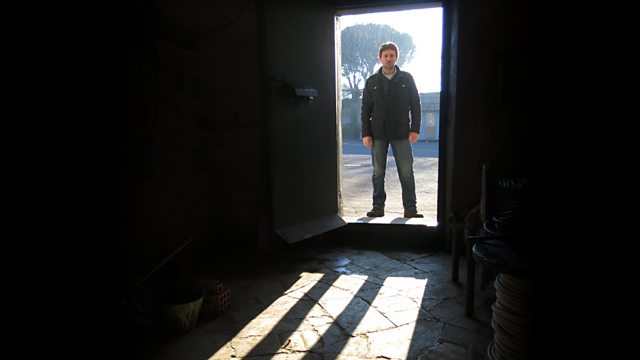 Introduction to The Mystery of Rome's X Tomb
Historian Dr Michael Scott and a team of archaeologists unlock the secrets of a mysterious tomb containing over 2,000 bodies unearthed within the catacombs of Rome.
Historian Dr Michael Scott unlocks the secrets of a mysterious tomb recently discovered in one of Rome's famous catacombs. Found by accident following a roof collapse, the tombs contained over 2,000 skeletons piled on top of each other. This was quite unlike any other underground tomb seen in Rome. They are located in an area of the catacombs marked as 'X' in the Vatican's underground mapping system - hence the name The X Tombs.
Michael Scott joins Profs Dominique Castex and Philippe Blanchard, head of a team of French archaeologists with experience of investigating mass grave sites. Carbon dating the bodies suggest they died from the late 1st century AD to the early 3rd century AD, which would mean these people lived and died during Rome's golden age.
The remains of an early Medieval fresco were found on the wall sealing the tomb suggesting this could be the last resting place of a group of unknown Christian martyrs. But the bones don't show the signs of physical trauma you would expect after a violent death.
The bodies were a mixture of men and women, most of them late-teenagers and young adults. They were placed in the tombs with great care, packed in head to foot. Further clues suggest they were laid to rest after a series of mass death events. This raises the idea they may have died from disease.
The streets of Ancient Rome were like an open sewer and the famous roman baths were also a breeding ground for infection. DNA expert and palaeogeneticist Johannes Krause is called in to try to identify what disease may have killed them.
Meanwhile, the French team uncover further clues to the identity of the people. They find cultural connections with Northern Africa. Was this a wealthy immigrant community? Or a select group of Ancient Rome's elite?
Duration: