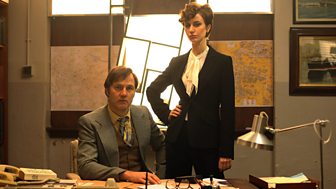 Series 2
Paddy tries to make a career amidst the miner's strike and big changes in journalism.
On iPlayer
This programme is not currently available on BBC iPlayer
On TV
There are no upcoming broadcasts of this programme
Last on
Fri 9 Aug 2013 21:00
BBC One
About the programme
Set against a backdrop of the miners' strike and the changing face of 1980s journalism, award-winning crime-drama The Field of Blood returns with a stellar cast including David Morrissey, Katherine Kelly, Jayd Johnson and Ford Kiernan.
Glasgow, 1984 - Paddy Meehan (Jayd Johnson) now has her dream job as a news reporter working alongside George McVie (Ford Kiernan). But all this changes with the arrival of new Editor-in-Chief, Maloney (Katherine Kelly), a no-nonsense woman in a man's world, determined to bring the newspaper into the modern age - against editor Murray Devlin's (David Morrissey) wishes.
With Maloney and Devlin at loggerheads in the newsroom, an innocuous call about a disturbance in an affluent part of the city leads Paddy and McVie to uncover dirty tricks, police corruption, government cover-up and cold blooded murder.