Main content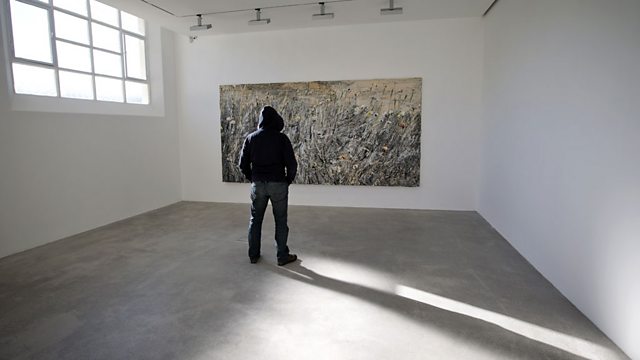 Negotiating Space
How an understanding of space around us is crucial to learn who and what we are.
Should we be more aware of the space we live in? Where does private space end, and what is it that makes a space public? One of the world's leading art critics TJ Clark explains why Picasso's use of space is the key to understanding his paintings. The Dutch sociologist and globalisation expert Saskia Sassen speaks in favour of empty spaces - indeterminate areas of a city which people can make their own and populate with their own history. And philosopher of space Stephan Günzel argues that humans are spatial beings above all else, and that an awareness of space is crucial to learn who and what we are.
(Photo: Art gallery. Credit: Joel Sagat/AFP/Getty Images)
Chapters
T.J. Clark

Duration: 15:24

Stephan Günzel

Duration: 07:36

Dog owners should switch their pet over with a rabbit for a week

Duration: 05:25

Saskia Sassen

Duration: 12:05

T.J. Clark

Timothy James Clark, often known as T.J. Clark, is an art historian and writer. In his most recent book,

Picasso and Truth: From Cubism to Guernica

, TJ Clark highlights the artist's obsession with painting rooms - and other interior spaces, and argues that Picasso's on-going struggle to make sense of the turmoil of the 20th century meant that in later paintings like Guernica, the sheltered space of the room became increasingly under threat.  Among other paintings, T.J. Clark refers to The Blue room (1901), The Painter and His Model (1927) and Guernica (1937).

Stephan Günzel

Stephan Günzel is a space theorist, and Professor of Media theory at the Berlin Technical University of Art.  Stephan's specialism is looking at spatial theory in computer games. He believes that computer games are unique in the way they present us with a space that is interactive and which we can navigate. He argues that these games are not about killing or shooting people but about identifying and recognising things in virtual space, and learning orientation – providing a valuable lesson in seeing the world differently.

Saskia Sassen

Saskia Sassen is Professor of Sociology at Columbia University in the US. During the 1980's and 1990's, Sassen emerged as a prolific author in urban sociology, including the impacts of globalisation and transnational human migration, coining the term "global city" in her book of the same name.  She's also the winner of the Astorius Prize, and the author of "Territory, Authrority, Rights". She argues that empty spaces in cities matter for the autonomy of civilians and are also an important space for creativity and personal associations.

Sixty Second Idea to Change the World

In our Sixty Second Idea to improve the world, philosopher of space Stephan Günzel suggests that everyone who owns a dog should switch it over with a rabbit for a week. Stephan believes that people use their dogs as status symbols and as a way of dominating space: intruding upon the space of others, especially in public areas like parks and streets. If people were deprived of their dogs for a week, they would realise the absurdity of their relationship towards space.

Comments on the programme:

Video games have an uncanny ability to influence how you view space around you... By default, your success in games is entirely dependent on how well you navigate space, whether it is an adventure game or first-person-shooter or anything in between. Initially, I was completely incapable of pulling this off, but only recently have I made significant progress. Has this led to a marked change in how I relate with space in real life? I wouldn't know ….

Jeff Kahuthu

 

I don't believe that video games from the generation before satellite navigation could have developed or retained better perception of space. Until very recently, constrained by available memory, video games had repetitive graphics. Walls used the same monotone texture, and alternate variants of it, when added as decorations, occurred more than once within an environment. This was confusing, and made me as a player become oblivious to small clues that would otherwise indicate a hallway or road that I have already passed through.

Jason Peterson

In Next Week's Programme:

In Next Week's Programme: How wealth and power could be better shared - with the Nobel Prize winning Indian economist and philosopher Amartya Sen.