Main content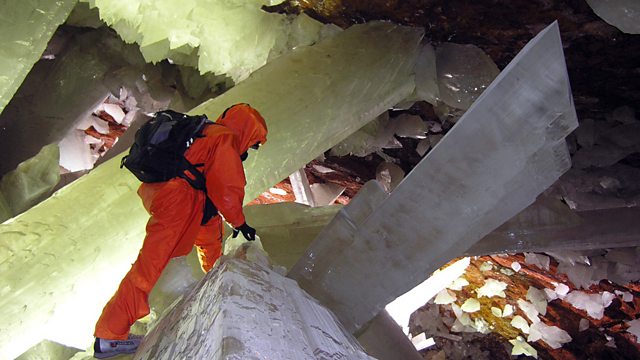 Shining a Light on Crystals
Crystals are found growing naturally all over the world, and are among the oldest things on earth, so why are we creating new ones for the purposes of art and science?
Bridget Kendall discusses the incredibly varied uses and meanings of crystals with cave scientist Penny Boston, who studies ancient life forms trapped inside the earth's largest crystals, biophysicist Elspeth Garman who spends years growing one perfect protein crystal in her lab, and artist Roger Hiorns, who encrusted an entire apartment with bright blue crystals.
(Photo: Liberata; taken by Giovanni Badino © SpeleoResearch&Film-LaVenta-C/Producciones)
Chapters
Penelope Boston

Duration: 12:39

Roger Hiorns

Duration: 10:21

60 second idea – Drop that phone!

Duration: 05:12

Elspeth Garman

Duration: 12:18

Penelope Boston

Penny Boston is Professor of Cave and Karst Science at New Mexico Tech. Her areas of research include microbial life in highly mineralized environments and astrobiology and the search for life beyond Earth. She visited the

Cave of Crystals in Naica

in Mexico in 2008 and 2010, to search for ancient DNA trapped within and around the giant mega-crystals discovered there.  Visits to the system, 300 metres underground, involve wearing an ice suit, and must be limited to an hour because of the 50 degree heat, and 100% humidity.  Penny has grown more than 80 cultures in her lab from the samples she took at Naica, and she says the emerging results suggest that the crust of the earth could be acting as a kind of geological genome bank; holding on to organisms that are taken out of circulation and then re-introducing them at a later date.

And you can see some photos taken at Naica / Ojo la Reina in Mexico by Penny Boston and others by clicking on the Gallery on the right of this page.

Roger Hiorns

Roger Hiorns is a British artist who has exhibited widely in the UK and internationally.  He has a number of works in public collections including the Tate, the Museum of Modern Art in New York and the Art Institute of Chicago.  Roger was nominated for the prestigious Turner Prize in 2009. His piece Seizure was created in 2008, by pumping over 70,000 litres of liquid copper sulphate into a derelict apartment. When drained, a sparkling blue crystalline growth was left on the walls, floor, ceiling and bath of the abandoned dwelling. Faced with demolition in early 2011, the piece was acquired by the

Arts Council Collection

, and transported to Yorkshire Sculpture Park, where it has just gone on display.

And you can see some photos from Roger Hiorns Seizure piece at the Yorkshire Sculpture Park by clicking onto the Gallery on the upper-right of this page.

Elspeth Garman

Professor Elspeth Garman heads the Garman Group, part of the Laboratory of Molecular Biophysics at Oxford University.  With the help of robots, Elspeth grows thousands of protein crystals in her lab, in the search for one perfect, pure, microscopically small crystal to use. Elspeth and her team then blast the crystal with x-ray photons in order to work out the protein's structure and function.  They have 'solved' many proteins using these techniques, most recently an enzyme from the cell wall of the tuberculosis mycobacteria (arylamine N-acetyltransferase).  They also focus on developing improved methods for macromolecular crystallography, including studies on how to reduce radiation damage of crystals.   Elspeth conducts many of her experiments at the Diamond Light Source synchrotron in Oxfordshire, which has an x-ray beam 100 billion times more intense than the sun.


60 second Idea to Change the World: Drop that phone!

Molecular biophysicist Elspeth Garman suggests a range of practical measures to discourage people from using their phones whilst driving – including building in a sensor to the car's computer which makes the car go slower and slower if it detects a phone is being used, and making the phone itself hotter and hotter until the user must drop it on the floor.  As a cyclist Elspeth is terrified by people who drive around with a phone glued to their ear, and thus can't turn the wheel properly; she says trust is needed between all road users and it would be much easier to achieve this if all the phones were on the car floors.

In Next Week's Programme:

Spaces: All the different kinds of space we experience and inhabit; empty space, private and public space – how do we represent and try to define them? With leading art critic TJ Clark, Dutch sociologist and globalisation expert Saskia Sassen, and philosopher of space Stephan Günzel.