Mental Health: Healing Norway
July 22, 2011 has been described as the day Norway cried. After detonating a car bomb in Oslo, killing eight and injuring many more, Anders Breivik took a ferry to the island of Utoya. There, dressed as a policeman, he began a murderous spree, hunting down and indiscriminately shooting young people on the island who were attending a youth camp. Seventy seven people were killed in total, many of them teenagers, and hundreds injured.
This was the worst mass murder in Norwegian post-war history and the whole country was in shock. But Norway used this national tragedy to pioneer new ways of caring for their citizens. Claudia Hammond reports on the ground-breaking new ways Norway has been road testing to deliver psychological and mental health support to those who survived, and to those who lost relatives and friends.
Last on
Sun 23 Jun 2013
22:32

GMT
Dr Bjorn Guldvog, Norway's Chief Medical Officer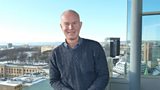 Dr Bjorn Guldvog, Norway's Chief Medical Officer
The Truth About Cancer Podcast