Main content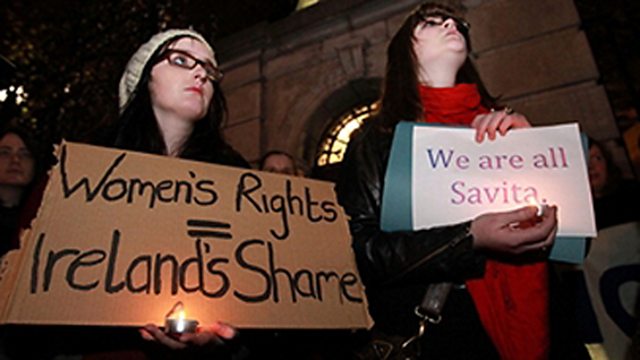 After Savita
The bitter and divisive debate in Catholic Ireland over whether its abortion laws should be changed.
Every year thousands of women travel from Ireland to the UK to have an abortion. It is enshrined in the country's constitution that from the moment of conception, a foetus has the same rights as every other human being. The Irish government is coming under pressure to reform the law, as well as coming under huge pressure to keep the law exactly as it is. The Catholic church and pro-life groups are adamant though that the law as its stands protects one of its most important teachings.
The pro-choice argument has been stoked by the death of Savita Halappanavar in November 2012. After complications early in her pregnancy, she went to hospital in Galway on Ireland's west coast. Termination, she was told wasn't an option as Ireland was a Catholic country. Savita, a Hindu, died. Although the inquest didn't say that a termination would have saved her life, Irish people took to the streets in her name to demand a change.
Colette Kinsella reports from Ireland on the bitter debate that has split this country, how women who have secretly had to abort their babies feel about what they did and how it changed their personal relationship with a Catholic church that has shaped the moral and legal framework in Ireland for decades.
It's not only the future of the abortion law that's been debated, the Irish people's relationship with its church is also under scrutiny. The church and the supporters of its stance on abortion are adamant that you simply cannot be pro-abortion and Catholic. Colette meets one devout church-goer who says that's exactly what she is, and it is this that's at the heart of the debate that rages in bars, on radio talk shows and on the television news in this country. Can Ireland allow abortion, however restricted, and still live up to the title given to it by one former pope; 'the most Catholic country in the world'
Last on
Broadcasts