Main content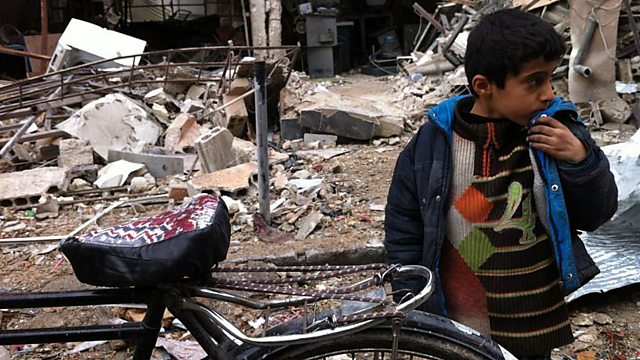 Damascus Diary
BBC correspondent, Lina Sinjab, reports on the Syrian conflict with an intimate, personal audio diary.
Lina Sinjab, the BBC's Damascus correspondent, has reported for the World Service as the Syrian conflict progressed. But how has it changed her home city – and how has it changed her?
In this intimate, revealing programme, she combines dramatic scenes and interview material with a personal audio diary as she discusses her thoughts, feelings and encounters. She meets a 14-year-old boy who's volunteered to become a medical worker; she sees a young boy hitting a doll which he's named after an opposition leader; she watches black smoke from explosions bloom across the city from the window of her apartment.
She has flashbacks of an old man killed by a sniper and seeks refuge in listening to her favourite music. She joins a bizarre rooftop barbecue, as friends party and try to push the thoughts of conflict away and finally she leaves her beloved country, with thoughts of her friends and family who she has left behind echoing in her mind. "Every minute will stay in my mind and heart," she concludes. "I'm not sure if and when I'll be back."
(Image: A boy stands outside a destroyed house in Douma, Damascus suburbs. Credit: Lina Sinjab)