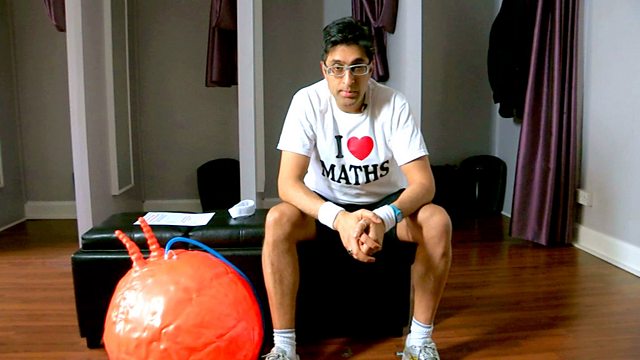 Who Needs Maths?
Comedian, and lover of all things mathematical, Sanjeev Kohli asks Who Needs Maths? He is on a quest to show that maths is everywhere, even in the most unexpected places.
Meeting a range of people who all use maths in their everyday lives and jobs, Sanjeev enlists them to help him solve a few problems. When it comes to getting fit for an audition for a new TV show, personal trainer Ricardo is on hand to talk through the maths of health and fitness. Professor of hair, Sharz, gives Sanjeev a lesson on angles as he creates a new style and it is volume expert Gavin with his wee van that Sanjeev turns to when he has storage problems.
Sanjeev discovers there is even maths in our clothes when he buys some ill-fitting bargains at the sales. And, luckily, tiler Steven is to hand when he gives a bathroom a makeover. Plus cook Emili shows Sanjeev you need more than herbs and spices to cook a chilli for 20 friends. Maths is all around us. There is even maths in comedy. And if you don't know it or can't see it yet - you're just not doing your sums right!
Featured in...
KS3. Short films about science, technology, engineering and maths for 11-13 year-olds.