Main content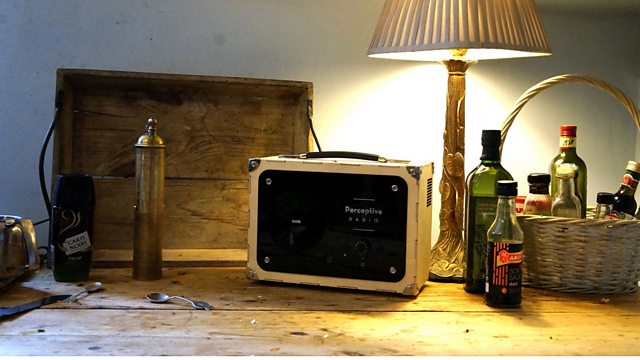 Perceptive Radio
A radio that analyses its surroundings, then adjusts how the audio is played. Also, taking a 3D image without a camera and the app that lets you text and walk without accident.
Perceptive radio is a domestic radio with as powerful computer inside that looks at the environment around you and changes how the content is played back to you. It's a BBC project, run in collaboration with a number of technology companies. The radio, still a prototype, has a handful of sensors that take into account distance, proximity, lighting and ambient noise. Finally the perceptive radio collects data readings from those sensors and adjusts the content, namely the audio, to be sympathetic to them. Click hears from Gregory Povey from Mudlark and the BBC's Ian Forrester about how the technology works.
How do you capture a 3D photo without using a camera? The answer it seems is via ghost imaging. But never mind how you take such a photograph without a camera; why would you want to do so in the first place? The technique is referred to as computational imaging. It allows you to take pictures with a single pixel device rather than thousands of pixels. A recent experiment demonstrating the technique relies on a data projector to beam a black and white pattern – a little like an uncompleted crossword onto an object.
Gareth Mitchell talks to Matthew Edgar from Glasgow University about how the final computer-generated image is made.
Have you ever walked and tried to send a text at the same time? If so you may have narrowly avoided bumping into a lamp post or a fellow traveller. Well help is on its way courtesy of Crash Alert – the app that prevents unwanted crashing whilst you are distracted on the phone. Anna Lacey reports on the device. But should we all just be paying more attention; and not fidgeting with our phones as we navigate the streets?
(Image Courtesy Gregory Povey @ topfife)
Last on

Chapters
Perceptive Radio

The BBC unveils the radio that perceives its external environment.

Duration: 05:43

Ghost Camera

Matt Edgar describes how to take a 3D picture without a camera.

Duration: 06:32

Crash Alert

The app that allows you to text and walk without crashing.

Duration: 04:48

Broadcasts