Main content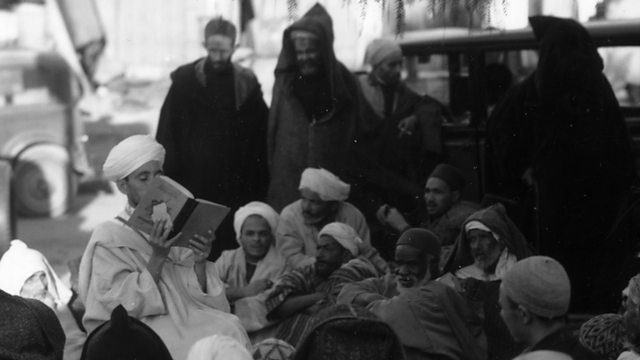 Why Do We Tell Stories?
Why do stories have similar narratives over and over again? Drama producer John Yorke, neuroscientist Emile Bruneau and Afghan writer Qais Akbar Omar on the nature of storytelling.
If storytelling is as natural to humans as breathing, why can't we avoid telling the same story over and over again? Helping Bridget Kendall tell this tale are award-winning drama producer John Yorke, who explains why a nine-year-old could storyline a Hollywood film; neuroscientist Emile Bruneau, whose cutting edge research on how narratives can trigger empathy and Afghan writer Qais Akbar Omar, who says that when you have nothing else left, stories can sustain you.
(Image: A storyteller reads from a book, surrounded by listeners. Credit: Brown/Fox Photos/Getty Images)
Chapters
John Yorke

Duration: 15:02

Qais Akbar Omar

Duration: 07:58

60 second idea – Emoto-honks

Duration: 04:57

Emile Bruneau

Duration: 12:33

Qais Akbar Omar

Qais Akbar Omar is a writer and carpet-maker from Afghanistan, whose young life has coincided with a particularly explosive period in his country's history; his memoir A Fort of Nine Towers focuses on what happened to his family during the period from the civil war in the early 1990's, to the arrival of international troops in Kabul in 2001. Qais is a gifted linguist who trained as a journalist and as a translator for the US military and the UN. He now manages his family's carpet business in Kabul, and has lectured on Afghan carpets around the world.  Qais is also co-author, with Stephen Landrigan, of Shakespeare in Kabul, an account of the 2005 performance of Shakespeare's Love's Labour's Lost in the Afghan capital.

Image credit: Thomas R. Fattori

Emile Bruneau

Emile Bruneau is a social cognitive neuroscientist in the SaxeLab at MIT in the United States.  He researches the neural basis of intergroup conflict, and the psychological and cognitive consequences of conflict resolution efforts. He says we still have very little idea about what types of conflict resolution interventions work, which don't, and for whom.  Emile's current studies, funded by the US military, are attempting to establish a scientific evidence base for future forms of intervention, and focus on the power that narratives have to trigger different kinds of empathy.

John Yorke

John Yorke is Managing Director of Company Pictures, one of the UK's leading independent drama producers.  For many years he's been responsible for a vast array of British drama; as both Head of Channel Four Drama and Controller of BBC Drama Production he's commissioned big popular series such as Shameless and Spooks.  John's fascination with stories has led to his book Into the Woods: A Five Act Journey Into Story, in which he attempts to answer the questions: Why do we tell stories? And why do all stories function in an eerily similar way?

60 second Idea to Change the World: Emoto-honks

Neuroscientist Emile Bruneau says we need a more sophisticated horn in our vehicles.  Instead of sounding a bone-shattering, ear-splitting blast of acoustic rage every time you touch it, what if all cars came with two options for the horn: the standard loud and obnoxious attention getter, and a gentler, more polite version?  This horn could even be programmable, with cell phone style ringtones; and would make the road a much less tense place to be.

In Next Week's Programme

Curiosity: It may have killed the cat, but why does it matter so much to science and to society as a whole? With theoretical physicist Lee Smolin, social scientist Masooda Bano and historian of science Philip Ball.