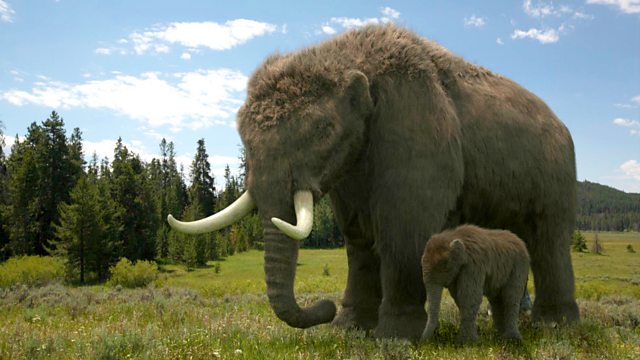 Professor Alice Roberts journeys 40,000 years back in time on the trail of the great beasts of the ice age. This was the last time that giants like mammoths, woolly rhinos and sabre-toothed cats ruled our planet. Drawing on the latest scientific detective work and a dash of graphic wizardry, Alice brings the ice age giants back to life.
Astonishingly, even after thousands of years of ice crushing the northern hemisphere and temperatures of 20 degrees lower than those of today, many of the great giants of the ice age still walked the earth. It was only when the world had warmed up again that mammoths, woolly rhinos, sabre-toothed cats, giant ground sloths and glyptodonts finally became extinct. Alice sets off on her last voyage back to the ice age to discover why.
She learns the moving story of a mother mastodon, an extinct relative of the elephant. From her tusks, scientists can tell how many calves she had and whether they reached adulthood. This evidence, together with harrowing injuries on other skeletons, tells a perplexing story of a species on the edge of extinction - mastodons were turning on mastodons. By looking at the behaviour of elephants today, scientists have come up with a surprising theory as to why this happened.
The woolly rhino tells another story. Believe it or not, the one thing it couldn't stand was snow - which stopped it from getting enough grass. During the ice age in Europe and Siberia, snow was thin on the ground as so much water was locked up in the ice sheets. But when the ice ended, the snows increased, rhinos found themselves stuck and their little legs were unable to get them out of trouble.
Last on
More episodes
Next
You are at the last episode
Credits
| Role | Contributor |
| --- | --- |
| Presenter | Alice Roberts |
| Producer | Mark Flowers |
| Executive Producer | Tim Martin |
| Participant | Dan Fisher |
| Participant | John Broster |
| Participant | Mike Waters |
| Participant | Blaine Schubert |
| Participant | Kendra McLauchlan |