Main content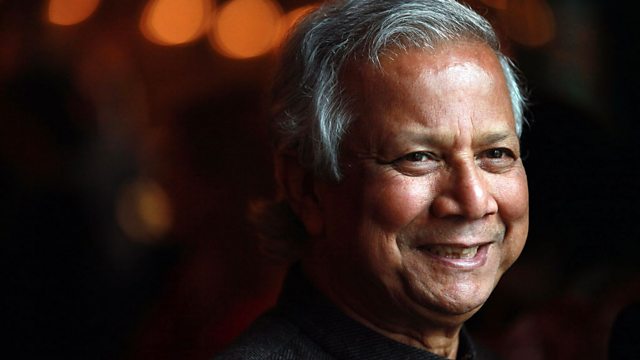 Muhammad Yunus: Banker to the Poor
How economist Muhammad Yunus became a pioneer for microcredit and Nobel Peace Prize winner. Also, the fate of children branded as witches in the DRC.
Professor Muhammad Yunus is known as the Banker to the Poor. He is the economist who started the Bangladesh based Grameen Bank which has lifted thousands out of poverty by offering small loans to help them start businesses. The initiative has now been copied in many different countries. In 2006 it won Professor Yunus the Nobel Peace Prize and it has brought him praise from leaders around the world.
Also in the programme, a new exhibition at Berlin's Jewish Museum tackles anti-semitism with controversial, interactive and even live displays.
Kevani Kanda has travelled to the Democratic Republic of Congo to make a BBC documentary about the problem of children being branded as witches. It's an issue which is very personal - because Kevani's younger cousin Florence has been accused of being possessed and been cast out by her family.
In Witness, we go back to 1980 when, amid growing concern over the threat of a nuclear confrontation in Europe, the British government published a booklet containing instructions on what to do in the event of nuclear war. It was called Protect and Survive. Mike Granite was a government press officer. Bruce Kent was head of the Campaign for Nuclear Disarmament. Both spoke to our reporter Mike Lanchin.
(Image: Professor Muhammad Yunus. Credit: Scott Olson/Getty Images)
Last on

Broadcasts