Main content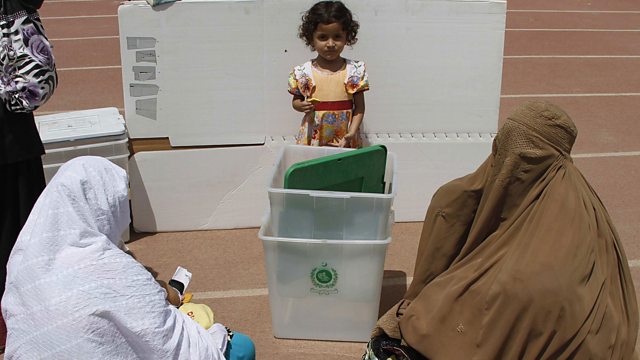 Pakistan at the Polls
Understanding Pakistan's elections from the perch of BBC Urdu featuring BBC Urdu's Aamer Ahmed Khan.
This week Pakistan is going to the polls and BBC Urdu's Aamer Ahmed Khan has taken David Amanor into the lion's den - the bureau in Islamabad. This is your special guide to all things election.
THE SILENT PARTY
There's a silent party that holds great sway in these elections - the Tehrik e Taliban. Writer Mohammed Hanif explains the Taliban's particular brand of electioneering.
ACRONYM EXTRAVAGANZA
Pakistani party politics is mired in maze of acronyms, so just mind your Ps and Qs. Plus, the battle of the symbols - the story of how the parties got their pictures.
I CAN HAZ MY TV BACK PLZ
Television channels in Pakistan are showing wall-to-wall party advertising - "paid political content". It's all a bit too much for Saba Imtiaz - she's desperate to have her TV back.
TRAILED BY THE ISI
On the campaign trail in Sindh, why Shahzeb Jillani and Almeena Ahmed give their perspectives from Karachi - including a run in with the Pakistani security services.
PAKISTAN'S GREATEST POLITICAL HITS?
From Faiz to Beghairat Brigade via Junoon, the defining political songs across generations. With Arif Waqar, Umber Khairi and Nosheen Abbas.
CHAI TIME
What do journalists in Islamabad talk about during their tea breaks? Aamer Ahmed Khan hobnobs with Irum Abbasi and Saba Eitizaz. No dunking please.
(Image: Small girl stands behind voting ballots. Credit: Reuters)
Last on