Main content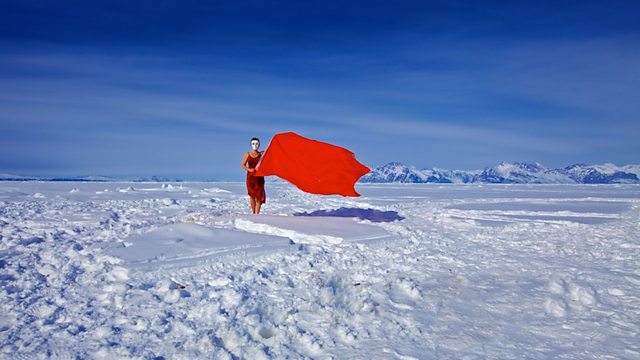 Silence
From communication and contemplation to obedience and shame, we explore the many sounds of silence, with John Francis, Galya Morrell and Diarmaid MacCulloch.
Joining Bridget Kendall to be noisy about silence are American conservationist John Francis, who chose to stop talking one day and didn't speak again for seventeen years; Russian ice artist and explorer Galya Morrell, who has found that silence is an essential tool for survival in the North; and award-winning historian Diarmaid MacCulloch, who is interested in the tension between speech and silence that has existed throughout Christian history. photo: © License All rights reserved by Galya Morrell (ColdArtist)
Chapters
John Francis

Duration: 12:56

Galya Morrell

Duration: 10:04

60 Second Idea: A Tax on Piped Music

Duration: 05:07

Diarmaid MacCulloch

Duration: 12:23

John Francis

Environmentalist John Francis, aka the Planetwalker, walked across America for 22 years, 17 of them in total silence.  He had decided to eschew all forms of motorised transport after observing the effects of the 1971 oil spill in San Francisco Bay, but then found he was arguing about this decision with everyone he met, until he decided to stop talking and start listening.  During this period, he says he discovered something he calls the '

ragged edge of silence

'.  He also completed three degrees.  John began talking again on the 20th anniversary of Earth Day in 1990, when he had finally completed his coast to coast walk.  For him, silence and walking are intertwined, and he still has periods of practising both.

Galya Morrell

Galya Morrell is a Russian artist and polar explorer who has led silent expeditions across the Arctic sea ice. She and three others travelled 4000 kilometres last summer in a small open boat, visiting the world's northernmost settlements in Greenland, and they spent much of this

Avannaa Expedition

in total silence.  Galya is the child of Komi nomads, and she points out that northern people only speak when it's necessary.  Endless chatter would scare away the animals they rely on for food and warmth, and so for them, silence can be the difference between life and death.

Diarmaid MacCulloch

Diarmaid MacCulloch is Professor of the History of the Church at Oxford University, and prize-winning author of Christianity: the First Three Thousand Years.  His latest book

Silence – A Christian History

looks at the changing attitudes towards silence and sound in Christian worship and practice.  From the 'dumb idols' of the Old Testament, to monastic vows of silence, and contemporary shameful silences over abuse; he examines the 'divine wildtrack' that has accompanied Christianity over millennia.

60 second Idea to Change the World

Diarmaid MacCulloch proposes a tax on piped music in bars, restaurants and shops. He doesn't believe this background noise enhances anyone's experience of being in such places, and would like to make the proprietors pay for inflicting it on us! Similar 'Sin taxes' are applied to alcohol and tobacco in many parts of the world, so why not add this to the list?  Who knows, some business owners might abandon the practice altogether, resulting in a little more precious silence in a noisy world. 

In Next Week's Programme

What's the best structure for making political decisions - top down or bottom up? With Joseph Nye, David Graeber, Martijn de Liefde and Stephen Whitefield.