Lebanese TV star: my life after the bomb
May Chidiac was one of Lebanon's star TV anchors. Her outspoken political views won her a number of enemies, and in 2005 she was the victim of a devastating car bomb attack. She nearly died from her injuries, and ended up losing a leg and her forearm. She went through extensive rehabilitation in France and returned to Lebanon the following year, where she decided to carry on with her work as a journalist.
13-year-old Richard Turere belongs to a Masai community who rear cattle on the southern unfenced edge of the Nairobi National Park. Lion attacks on their livestock were a big problem until Richard invented a system of flashing lights to keep the lions at bay. As a result he's been awarded a scholarship to an elite school.
At the age of two Sheri Pitman stopped talking to anyone outside her home in Kent in the east of England. She didn't start again until ten years later. What she had is called "selective mutism", a disorder in which children feel unable to speak in certain situations. It was triggered by what was for her a traumatic event at nursery. Sheri's now 21, and happily does talk and she joins Matthew in the studio.
American writer Lisa Pulitzer used to be a crime reporter on a local newspaper, but has since carved out a surprising niche for herself in the literary world - she's the go-to ghost-writer for escapees of religious cults. Her subjects must overcome their inability to trust anyone following their traumatic experiences in order to share their stories with Lisa so she can write them down.
Last on
Wed 24 Apr 2013
02:05

GMT
Richard Turere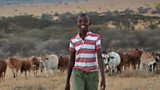 Richard Turere, the Masai boy who invented a lion scarer. Photo: Dr Paula Kahumbu.