Main content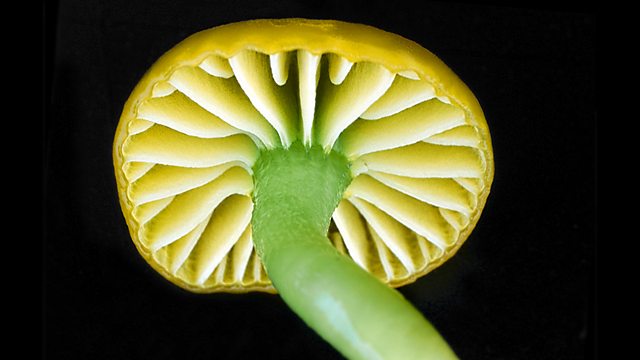 The Mysterious Kingdom of Fungi
The underground battles as fungi fight to feed themselves, the thousands of useful species out there which we have yet to discover, and innovative mushroom furniture.
Put any prejudices about poisonous toadstools and mould in damp corners out of your mind: this week's Forum explores fungi as an extraordinarily tough and ecologically friendly building substance that could reshape our world. Plus the hundreds of thousands of species of fungi that have yet to be named and studied: some of them may hold vital clues on how to cure diseases or solve environmental problems. Bridget Kendall is joined by fungal ecologist Lynne Boddy, Danish mycologist and photographer Jens Petersen, and San Francisco-based artist, chef and fungal furniture-maker, Phil Ross. Hygrocybe Psittacina Photo: © Jens H. Petersen
Chapters
Lynne Boddy

Duration: 15:12

Jens Petersen

Duration: 07:48

60 second idea to change the world: Fungi that remove chewing gum

Duration: 03:42

Phil Ross

Duration: 13:48

Lynne Boddy

Professor at Cardiff University's School of BioSciences, Lynne Boddy is a woodland fungal ecologist, especially interested in mycelial interactions when different species of fungus compete for the same food source, the foraging behaviour of fungi, and the effect of climate change on them. She is also involved in novel uses for mycelial networks, for instance as models for other adaptive systems, such as road and railway traffic networks.

Jens Henrik Petersen

Jens Henrik Petersen is a mycologist, photographer and author of The Kingdom of Fungi. He has taught mycology at Denmark's Aarhus University for more than twenty years and has illustrated several popular books on edible mushrooms. He co-created a computer programme and online service that allows users to perform simple searches or complex identifications of fungi. You can see a small selection of Jens's photographs below as well as the main images at the top of this page.

Amazonian Mystery Tongue by Jens Petersen

Amazonian Mystery Tongue Photo: © Jens H. Petersen

Parasola Plicatilis by Jens Petersen

Parasola Plicatilis Photo: © Jens H. Petersen

Phallus Indusiatus by Jens Petersen

Phallus Indusiatus Photo: © Jens H. Petersen

Ganoderma Lucidum by Jens Petersen

Ganoderma Lucidum Photo: © Jens H. Petersen 

Phil Ross

Phil Ross is an artist, inventor and self-taught mycologist who works in the realm of "biotechniques", making sculptural and architectural works from plants and fungi, and videos about live cultures. His multi-decade research into mushrooms has led to his "mycotecture" series, an experiment in using reishi mushrooms as a sustainable construction material. The original art project expanded into workshop-made fungal furniture and also what Phil hopes will be other commercial products based on fungal mycelium.

Mycelium Chair by Phil Ross

Photo c/o Phil Ross

60 second Idea to Change the World

Lynne Boddy's pet hate is chewing gum stuck on the pavement.  So she would make it compulsory for chewing gum manufacturers to include a set of enzymes, perhaps produced by a fungus, that would dissolve gum soon after it came into contact with saliva. A recipe for a much cleaner world.

Comments on the Programme

I never in my life expected to fall off my chair laughing while listening with interest to a mycologist!  Lynne Boddy's students (I'm a teacher) must be very lucky. Thank you Lynne and the other participants, for brightening up my day, as well as teaching me a lot I didn't know about fungi.

Alec Rylands

 

I had no idea of the complexity of life of the not-so-humble fungus in its 1001 varieties.  Well done to you for presenting such an absorbing divertissement in the, O so very early hours B.S.T. and to the excellent panel of experts who have enlightened me in the world of the mushroom. I shall consume my full-English breakfast more contemplatively from now on.

Malcolm Hensher

In Next Week's Programme

Us Versus Them: it's a question that never seems to go away but we bring you new insights from the British historian David Cannadine, the American anthropologist Laura Nader and the award-winning novelist Aminatta Forna who comes from both Scotland and Sierra Leone.